Name: Ultimate Home Profits Review
Website: http://www.ultimate-home-profits.com/
Price: $97 + upsells
Owners: Michelle Robinson
Michelle Robinson is back with a "new" scam. That's right, this is another duplicate scam site that is hoping to prey on unknowing customers. The purpose of this Ultimate Home Profits review is to educate the public on the dangers of these duplicate scams. Read on!
To Begin With…
---
The expression that I use, "duplicate scam sites," is pretty self-explanatory, but allow me to explain what it means to the beginners among you.
What is a Duplicate Scam Site?
Scam artists work incredibly hard to get around an honest days work. At the end of the day, all you need to scam a large group of people is a convincing funnel (website), a hyped up sales page, and the know-how to promote it.
Duplicate scam sites were born out of scam artist's aversion to actual work. People who work in my niche (Make Money Online) are constantly undermining the "work" of these scam artists. By writing reviews of their programs and revealing that they are scams, we bring awareness to the public. Once the public is aware that a particular program is a scam, sales naturally dwindle.
What do lazy scammers do when the public stops buying their "programs?"
They simply copy and paste the entire program, but they change the name. That is a what a duplicate scam site is. It's a carbon copy of a previous scam with a new name that the public doesn't recognize. This keeps the scammers away from actual work, and it allows them to continue scamming people.
I find that the best way to sum up duplicate scams is with pictures. Here is a picture of the homepage of a program called Replace Your Job:
We've got a match! The greatest thing (Who am I kidding? The only good thing…) about duplicate scam sites is the fact that they are so easy to spot. This makes my job, as someone who reviews these programs, much easier.
Duplicate content does not rank on the SERPs (Search Engine Result Pages). Ranking on the first page of the SERPs is the best way to receive FREE traffic (visitors) to your website. Given that they don't rank, these duplicate sites rely on other means of traffic generation. Mainly, they create fake news sites to promote the program.
These fake news sites are the lowest of the low, in my opinion. They are taking advantage of beginners to the industry. There is some good news. Fake news sites are illegal, and recently I've seen a lot of them being deleted as the result of a crackdown. Ultimate Home Profits is being promoted by sniper sites (sites with the keyword "Ultimate Home Profits" in the url). The owners of these sites are, at the very least, affiliated with the program and should not be trusted.
The fraud doesn't stop there! Perhaps the most misleading thing of all is the fact that "Michelle Robinson" doesn't actually exist.
Who is Michelle Robinson?
Michelle Robinson is supposedly the owner of Ultimate Home Profits, but the truth is she doesn't actually exist. I wouldn't call a program a scam just because the owner uses a fake name. I understand the need for privacy. However, in this case I believe the fake name is utilized because nobody in their right mind would be comfortable putting their name on such a blatant scam. Here are some other fake names that I've seen:
Michelle Withrow
Cami White
Amy Parker
In all likelihood, Ultimate Home Profits and it's duplicates, are owned by a corporation. I have not been able to confirm who is actually behind these scams. If you have any information that could help me out, please leave it in a comment below.
Clearly, I'm not a fan of Ultimate Home Profits, and clearly, I think it is a scam. In the interest of fairness, I am still going to tell you what the program can teach you….
Program Overview
---

Ultimate Home Profits provides information on the following topics:
Building an Email List
Generating Traffic
Ebay
Drop Shipping
The problem is, they just provide the information, they don't help you understand it. While this is a membership program, there really isn't a focus put on the members. The whole "program" is essentially just a book. You can learn a lot from reading books, but you can't ask a book any questions when you need help. The best programs are the ones that allow you to work with, learn from, and network with other Internet marketers.
The Price and the Upsells
Ultimate Home Profits will cost you a one-time fee of $97. If you keep attempting to navigate away from the program it will be reduced to $47.
Why would they charge you $97 but settle for $47? What is it actually worth? NOTHING in my opinion.
This program has two upsells. The first is for a "VIP Package" and it will cost you $147. The second will cost you $19.95 and it is for a personal coaching call. DO NOT, I repeat, DO NOT give your phone number to this program. The call is where they will try their hardest to squeeze money out of you. I've heard horror stories of people losing thousands of dollars during one of these "coaching sessions." They are very persistent, and will try their best to convince you that you need to pay more to earn more.
The Final Word…
---

Ultimate Home Profits is a scam. I knew that before I even started this review, because they made it easy for me to spot. While there are things to be learned from this program (albeit not much) it's real goal is to make money for the owners, NOT to help you succeed with an Internet marketing career. Avoid this program and any programs that look like it in the future.
Don't give up on your dream of making money online. It's a beautiful thing to be able to make a full-time income while you're sitting at home in your pajamas. For me, it's less about the money and more about the freedom that comes with the job. I can do this job from anywhere. I'm no longer tied down by a regular "9 to 5." I want the same for all of you.
The majority of the programs that I review are complete scams. It's a sad truth. However, there ARE legitimate programs out there that can teach you everything you need to know about making money online. It's all about finding the right program for yourself. Check out my #1 recommendation. It's the program that taught me everything that I needed to succeed with my affiliate marketing career, and it just might be the right program for you.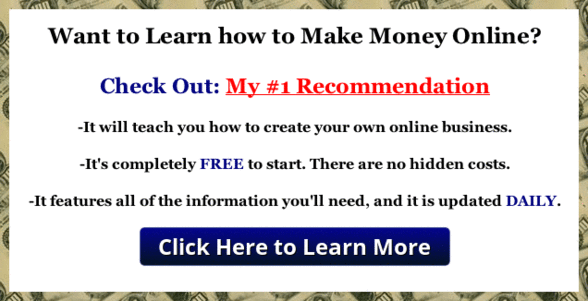 ---
Do you have any personal experience with Ultimate Home Profits? Any feedback? Leave it in a comment below! It's literally my job to help you guys out, so help me help you!