Name: Replace Your Job
Website: http://www.replace-your-job.com 
Price: $97 + upsells
Owners: Kelly Scott
Replace Your Job is a new program by the infamous "Kelly Scott." There have been a lot of scams associated with that name. Is this program legitimate? I believe it is a scam. This Replace Your Job review will tell you exactly why I think that. Read on!
To Begin With…
---

This program is another blatant "duplicate scam" site. A duplicate scam is a program that finds a way to dupe people out of their money, and when people begin to realize that it's a scam, the name of the program changes and all of the content stays the same.
Seedy program owners do this because they are lazy. They want to scam people out of their money with as little effort as possible. They hope that if they change the name of their scam (because people like me review these scams and reveal the name of the programs to the public), they can get a new crop of suckers to buy in. I guess I'll just have to continue exposing these scams. Watch out scammers!
Still not sure what a duplicate scam is? Take a look at these photos:
I hate this type of scam because not only is it deceitful, but it's LAZY. It sends the wrong message. You want to make money online? Than you can't be lazy.
Duplicated content does not rank in the SERPs (Search Engine Result Pages). Replace Your Job, and other similar scams, gain traffic through fake news sites. In their disclaimer, they state that they have no connection with the sites promoting them. That's absolute garbage. The "news" sites promoting them are clearly affiliates of the program (if they're not owned outright by the same people).
These fake news sites always spin a similar story. Usually, it's something along the lines of: "A single mother makes good, through this opportunity, in just one week." These spun stories should not be believed. It takes a lot of effort to make money online, and it won't happen in a week.
There is no such thing as overnight success. 
I do want to point this out:
These news logos are featured at the top of the program's website. By placing these official news logos, it implies that these networks have reported on Replace Your Job. Notice the careful wording. They say that work from home opportunities have been featured on these networks. That's online opportunities in general, but none of these networks have actually reported on Replace Your Job. Given the fact that the majority of their traffic comes from fake news sites, this is a diabolical marketing tactic (and unfortunately it is legal, considering their clever wording).
Lets talk about the program owner, "Kelly Scott…"
Where in the World is Kelly Scott?
The answer to that question is simple. Kelly Scott is nowhere, because this person doesn't exist. The name is a fake used by the scammers behind these programs (there are multiple scams associated with the name).
If Kelly Scott was real, running her business would mean directly communicating with the members of her program. That's what this business is. If you're not helping people, you're not making money. They state that she is too busy to interact with members. No, she just doesn't exist.
The information I've given should be sufficient in revealing the scammy nature of Replace Your Job, but I still need to tell you about the program….
Program Overview
---
Replace your job is a link-posting program. Meaning you post links (usually directed at scams) and collect money when they are clicked on. This seems appealing because of how easy it sounds. Trust me, it is harder than it looks. Posting links is easy, but posting links that are immediately removed is difficult. Worse yet, people can recognize scams. Most people won't click on your links and those that do will never trust you again.
It turns out…
Replace Your Job is really just a gateway site, because when you sign-up you are taken to a program called Online Software Solutions (OSS).
I'm not going to go into too much detail about OSS because that may end up being a review of it's own. The site covers the following information:
Link Posting
Social Branding
Acquiring Traffic
Training for Print Money Pro – This is a program you install on your website. When people attempt to leave your site they will be prompted by a pop-up to stay on your site, sign-up for your email list, etc..
A lot of OSS's training is good, but there is far too much information and it is not organized in a way that is conducive for beginners that are trying to learn. This amount of information can be overwhelming and stunt the growth of your business.
The Upsells
Upon joining Replace Your Job, you are immediately greeted by the first upsell: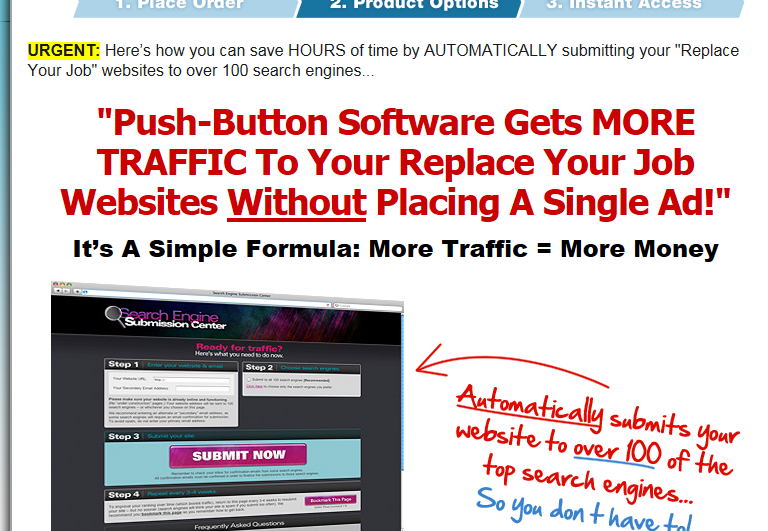 This upsell will cost you $67 and, in my opinion, it is a waste of money. It says it will submit your website to the search engines, but each time you create a new post (on your website) it is automatically discovered and indexed by the search engines, and it costs you nothing.
The second upsell will cost you $37. It is for a program that is meant to teach you about running your own online business.
Wait, so Replace Your Job doesn't teach you how to do this?! 
Upsells like this irritate me, because if this information is required to succeed, than it should be included in the initial price.
One Last Warning 
There are multiple places, throughout Replace Your Job and OSS, that ask you to call a number for a consult. They tell you that this consultation will help them to determine how you can best make money online. DO NOT CALL. They are just going to use your call as an opportunity to sell you more.
You don't want your phone number on their list do you?
The Final Word…
---

Replace Your Job is a scam. The one good thing about duplicate scams is the fact that they are easy to spot. This "program" is really just a gateway site to Online Software Solutions, and they charge $97 for the "service." OSS has some decent information but I still wouldn't recommend it to beginners, as it isn't formatted in a way that is "beginner friendly."
Do you want a legitimate opportunity to learn how to make money online?
If so, check out my #1 recommendation. It is an online business community that can teach you everything you need to know about building your own online business. The best part is: It is completely free to try out. You don't have to "pay to play," you can check out the program and decide if it's right for you without wasting any money.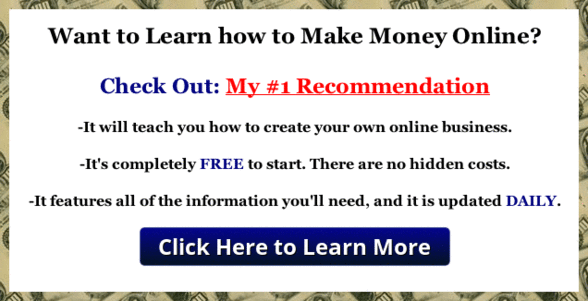 ---
Do you have any personal experience with Replace Your Job, or any of "Kelly Scott's" other programs? Any questions or feedback? Leave it in a comment below! I love hearing from you guys, and I love HELPING even more.