Name: Commission Miner
Website: http://www.commissionminer.com/
Price: 30-Day Free Trial, $29 per month after that, + one upsell
Owners: Bryan Winters
Commission Miner is a fairly new product that launched in June of 2015. It promises to deliver it's customers the "secret" to earning millions of dollars online. Does it live up to this promise? I bought in to the program to find out for myself. This Commission Miner review will answer all of your questions regarding the program.
To Begin With…
---
I have seen a lot of affiliates promoting this product. In fact, the first page of the SERPs (Search Engine Result Pages) is dominated by people promoting this program, hoping to make a buck off of selling it. I am not affiliated with Commission Miner, so this review is completely unbiased.
A lot of people promoting this program claim that Bryan Winter's success is a good reason to join. Do Not judge a program based on the success of the man that owns it. Sure, Bryan knows how to make money online (he's a millionaire after all) but he's had other "make money online" programs in the past.  You've got to ask yourself:
What makes Commission Miner better than Bryan's past endeavors?
That's certainly a question I asked myself. I was aware that some of Bryan's previous MMOs were seen as scams. A lot of the times online scams are shut down or lose steam as people become aware of the fact that they are scams. I assumed this was part of the reason that Bryan moved on to a new program, but I was wrong (more on that later). Ultimately, I do believe that Bryan is more interested in expanding his own wallet then helping others learn how to do the same.
For now, let's get into the details….
Program Overview 
---

I'm going to start this review by bursting the bubble behind the "secret" to making millions online. The secret, as Bryan claims, is to switch your focus from promoting actual products to promoting "affiliate income opportunities." Now, he doesn't come right out and tell you to stop promoting affiliate products altogether. In fact, he says you should still promote products but put more of an emphasis on income opportunities.
I agree with this. I almost exclusively promote income opportunities (with THIS website anyway), as opposed to products. My reasoning is most MMO (Make Money Online) products have an expiration date. The product is made, sold, and it continues to be sold long after the information within has become outdated (as information tends to do in the ever expanding world of the Internet). With an income opportunity, or an educational community, information is continuously updated which benefits the members of the program.
If you are only interested in making more money; promoting income opportunities, as opposed to products, can benefit your wallet in the form of RECURRING commissions. When you promote products you will receive a one-time commission if you generate a sale. Most income opportunities are subscription based, so the people that you refer will have to pay a monthly payment and you will receive a monthly slice of this pie.
The worst thing about Commission Miner, in my opinion, is the fact that it ONLY teaches you how to promote MMO programs. The joy of working online is the ability to make money promoting the very things that you love most in the world (ANYTHING you want!). Not everybody wants to promote income opportunities and this program loses points for catering exclusively to those that do.
Someone promoting this opportunity comes across like this: "Wanna learn how to make money online? Sign up for this program, I'll collect a check, and you repeat the process with the next guy." It comes across as really phony. To become successful in this industry, especially within the MMO niche, you will need to genuinely help people. The number one rule of business/marketing/sales is: Find a problem, offer a solution. I help people by teaching them how to make money promoting ANYTHING that they want.
Enough of my rant, let's get back to business.
The Training 
What review of an MMO program would be complete without mentioning the training?
The training is via video tutorials. These videos are very well put together and contain valuable information. However, they are only teaching you how to promote Commission Miner and other MMOs.
As a member of Commission Miner, you will receive access to the Exclusive Traffic Membership Portal. This will train you in various ways of generating traffic. Including:
Building Sniper Sites. This is a site that features a product keyword in the url. The idea is a sniper site ranks easier in the SERPs (Search Engine Result Pages). Google has updated their algorithm so that sniper sites don't have the same impact that they once did.
Marketing with YouTube. Simple concept, you make a video and link to your funnel.
Forum Posting. Find a forum, such as a Facebook group, and promote your funnel.
Swapping Ads. Find someone that is interested in cross-promoting websites.
Running PPC campaigns. PPC stands for Pay Per Click. It is an ad that you can make and put at the top of the SERPs for a keyword that you choose. If someone clicks on your ad, you will have to pay. I do not recommend this method to beginners, because it is too much of a gamble. If you don't know what you're doing, you can end up paying more than you make.
Commission Miner Co-Op (The Upsell)

This upsell will cost you $97. Buying into the co-op will allow you to network with fellow members and potentially build teams. Teams are a great way to make extra money within the MMO niche, especially if all of the members of your team have large email lists. I really like the sense of community within the co-op. The program is still new so the community will continue to grow, but the community vibes are already strong which is important. Networking is CRUCIAL.
The biggest bonus, with purchasing the upsell, is the fact that you will be entered into the CMC Auto-Rotator. This means that periodically your affiliate tag will be placed within Commission Miner's homepage link to the Commission Miner Co-Op upsell. If someone purchases this upsell while your link is active, you will receive 50% commission ($48.50).
You are only eligible to receive these bonus checks if you are actively promoting CMC. You only have one chance to sign up for CMC (Exclusivity sells. This is a shady marketing tactic. You don't have time to think over your decision).
A lot of people are going to sign-up for this program because it claims to make you money on "auto-pilot." The only "auto-pilot" money you'll make is through these bonus checks randomly distributed to members of the co-op. You will have to work HARD for the rest of your money.
How Can Commission Miner Make You Money? 
You will make money by sending traffic to a sales-page (the training will teach you how to do this). If the traffic buys the program, you will receive a 50% commission. Remember, the first month is FREE so you will not automatically receive money when you make a referral. Given that this is a subscription based program, you will continuously receive 50% of each of your referrals monthly payments (about $15).
The reason that they claim this program runs on "auto-pilot" is because the sales pages are already built (plus the CMC bonus checks). In truth, you will have to work to get traffic to these sale-pages. There is no such thing as "auto-pilot" online.
Some of the squeeze pages feature an email list opt-in (pre-built). This is a great feature. The traffic you send will sign up for YOUR email list. The money is in the list! Say you have 1,000 people on your email list, you send out one email (that goes to 1,000 people) promoting a product and you are nearly guaranteed to make at least one sale.
As a member of CMC (if you purchased the upsell) you have the opportunity to build teams. You can utilize your team to cross-promote other opportunities.
The PayPal Problem
Originally, Commission Miner operated on a two-tier payout structure. This meant you would receive $10 commissions for the people you refer AND $10 for every person that THEY refer ($10 to the house). This would be indicative of a pyramid scheme. The people at the top would always make more than the people below them.
About 3 weeks after the program launched they switched their payout method to PayPal. PayPal HATES two-tier systems, or anything that seems like a pyramid scheme, so now Commission Miner has done away with the two-tier system. Instead you will receive 50% recurring commissions for each referral made.
This is very suspicious to me. They started out as a total pyramid, so did they really intend to teach people how to make money online? or were they just interested in making money for themselves (sitting pretty at the top of the pyramid)?
Pros and Cons
---
Pros:
30-Day Free Trial. Although you will need to provide your credit card/PayPal information. If you do not cancel before the 30 days are up, you will be charged the regular monthly membership fee of $29. I'm a big fan of "try before you buy" programs.
Bryan Winters is active in the forums. This is amazing. It is so rare to see program owners actively involved in communities. I respect the fact that Bryan goes the extra mile here.
CMC Auto-Rotator. I wasn't completely sold on this at first because it sounded like a ponzi scheme, but I've come around (or rotated around as the case may be, PUN!). I do think this is a sneaky way to get people to purchase the upsell, but I see the value in it. Receiving a bonus check periodically is definitely motivational and I think it will encourage people to stick with the program and continue learning more.
Cons:
Deceitful marketing techniques. There is no such thing as "complete auto-pilot" when it comes to working online. You will need to consistently work HARD. There is no such thing as overnight success. Don't expect to make $10,000 in your first week with this program.
No one-on-one coaching. With the original 2 tier payout system, you stood a great chance of being coached by whoever referred you to the program. The reason being, the person directly above you in your upline makes money off of your efforts, so they would want you to be successful as possible. If you were to become a member of a team, you may receive additional coaching. As is, this program only has the video tutorials, so newbies may be confused.
It only teaches you how to promote MMOs, as opposed to promoting any product you want.
The PayPal snafu. I already touched on this above. The whole thing seems fishy to me. The program is new, it will continue to grow and sort these issues out. Hopefully, it will grow in a positive direction.
The Final Word…
---

At the end of the day, Commission Miner is a decent program. I don't fully trust it, considering their PayPal snafu, so I can't in good conscious promote it to my readers. To me, it does seem like it's just a way for Bryan to continue building his OWN list and promoting his other products to members (as he does within the community). The training is good though, and they do offer a 30-day free trial. Check it out if you are interested in learning how to promote MMOs (as a way to make money online), but remember to cancel before 30 days are up if you don't wish to continue with the program.
If you would like to learn how to make money online promoting ANYTHING you want, check out my #1 recommendation. It too is a community of Internet marketers, but it will teach you all about affiliate marketing in general, and not just promoting other MMOs. It is FREE to start out and you will not need to put your credit card down.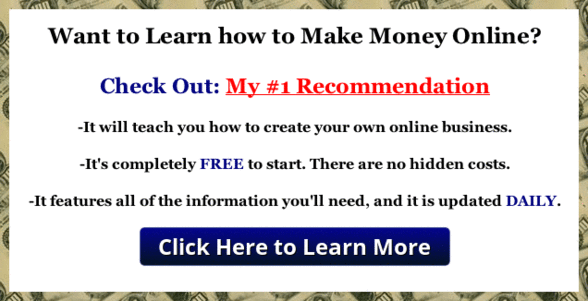 ---
Do you have any questions regarding Commission Miner? Any feedback? Leave it in a comment below and I will get back to you!