Name: Survey Savvy
Website: http://www.surveysavvy.com/
Price: FREE
Survey Savvy is an online money making program that is growing in popularity. Does it out perform the other survey sites? This Survey Savvy review answers that question and much more! Read on!
To Begin With…
---
Personally, I'm not a fan of survey sites. I see the appeal. It's easy "work" with a relatively quick payout (depending on the program). However, for me the money is not worth the time investment. I make money online through a process called affiliate marketing. It takes a lot of work to do what I do, but it pays out indefinitely (as opposed to being payed once for a survey). I make a full-time income, while taking surveys will only make you some extra pocket change at best.
Having said that, let's talk about how survey sites actually work…
How do Survey Sites Work?
The majority of survey sites are completely free to members. In fact, you should avoid the survey sites that try to charge you (these are scams). The surveys that are conducted via these sites are important for market research. Big companies value the opinion of consumers, and they use your input to improve their products and services. They value your opinion so much that they are willing to pay you.
Survey sites act as brokers between the big companies conducting the surveys and the consumers partaking in the surveys.
As a member of a survey site, you will provide information about yourself that will allow you to be placed in specific focus groups matching your demographic. You will only qualify for surveys in your demographic.
When you are offered a survey to complete, you will need to pre-qualify by taking a qualification survey. Qualifying takes just as long as the actual survey, and there is no guarantee that you will be eligible to participate in the paid survey.
If you do manage to qualify for and complete a survey, you will be compensated for your time (usually to the sum of a couple dollars). Pocket change.
This brings me to…
The Problem(s) with Survey Sites 
As I stated above, my biggest beef with survey sites is the time they require. It seems like it should be a relatively quick process, but it can take a long time to complete a single survey. You will first have to qualify and this takes as long as the actual survey without the money that comes with it.
Surveys are conducted based on geographic locations. A company that sells product exclusively in the United States isn't going to be interested in consumer trends from Europe. Often times there are no surveys available to take. You've also got to consider the fact that survey sites are incredibly popular, there is a lot of competition which means less surveys available.
Qualifying for surveys can be difficult. Companies are looking for very specific demographics and it can be hard to live up to what they want. This leads to most people fibbing on their personal details to become eligible for more surveys.
Pocket change. Most people participate in surveys as a hobby. It is very rare (if not completely impossible) for this to replace your regular income. Each survey can take up to a couple hours and you will generally be paid a couple bucks. Which raises the question, what is YOUR time worth?
Now that I've discussed survey sites in general, let's take a look at Survey Savvy…
Program Overview
---

Survey Savvy doesn't really try to break the mold. It's a lot like all of the other survey sites I've seen and it comes with the same problems that I've listed above. There are a couple of features that differentiate the program from the rest of the pack.
Savvy Connect
With Survey Savvy you have the option to download an app called Savvy Connect. Essentially, this app will monitor your online behavior. All the while, it will be gathering important metrics like where you shop online, what you watch, what entertains you, etc.. If you download the app, you are promised additional survey opportunities but from what I've seen, the pickings are still slim.
Affiliate Program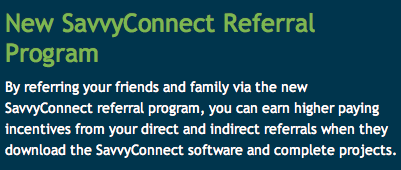 This is by far the greatest thing about Survey Savvy in my opinion. Their affiliate program operates on a 2 tier payout system. This means that you will earn money for every person you refer to the program, AND you will earn money for everybody that signs up through your referrals.
It does require some skill to invite people to sign-up for a program like this. If you are unfamiliar with affiliate marketing, check out my free email course on the subject.
Monthly Draw
Another thing that I love about Survey Savvy is their monthly draws. The most frustrating thing about survey sites, for most people, is failing to qualify for surveys. At Survey Savvy, when you fail to qualify for a survey you are entered into a monthly draw for a chance to win a cash prize. This makes not qualifying slightly (yes, only slightly) less infuriating.
Payout
The worst thing about this program is the payout. You can cash out as little as $1 (which is very nice comparatively) but you will be payed via check. Most survey sites offer to pay through PayPal. Checks take anywhere from 4-12 weeks to arrive. As with most other survey sites, sometimes your money will mysteriously vanish.
The Final Word…
---

Survey Savvy is a legitimate opportunity to make money online. Is it the best opportunity? No. It is a great way to make some extra spending money. This program isn't out to steal your money or take advantage of you, but it won't replace your job. If you just want some extra scratch on the side, I highly recommend it!
If you want to learn how to make a full-time income online, you should look into Internet marketing. I've reviewed many programs designed to teach folks how to make money online, but they all pale in comparison to my #1 recommendation. It's the site that taught me everything I know about making money online and it can do the same for you.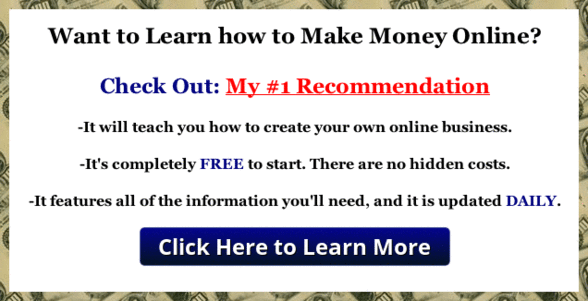 ---
Do you have any personal experience with Survey Savvy or other survey sites? Any questions or feedback? Leave it in a comment below and I will update my review accordingly!