Name: The Legends Network
Website: http://www.thelegendsnetwork.com 
Price: $129 (one time initial fee), $24.95 per month (basic plan), $49.95 (pro plan)
Owners: Jerry Gonzalez, Val Smyth, and Bob Bremner
The Legends Network is an MLM (Multi Level Marketing) company that started just over a year ago. I don't have a problem with MLMs. However, I do have a problem with pyramid schemes. In my own opinion, The Legends Network falls into that category. This review explains why. Read on!
To Begin With…
---
It's important to understand the difference between a traditional MLM and a pyramid scheme. The best way to make this distinction is through examples:
Traditional MLM
Avon is a well known cosmetics company that operates on an MLM platform. Their main focus is on their line of products. To market/sell these products, they rely heavily on affiliates. These affiliates join the program of their own accord or through the recruitment efforts of a sponsor. Avon, to the best of my knowledge, has no direct hand in the recruitment efforts.
Although, they clearly encourage recruitment by offering bonuses and other incentives. Their primary focus remains on their products. 
As an Avon sales representative, you can sell the products yourself or you can join a sales team. This sales team, and the compensation plan, is undeniably in the shape of a pyramid. However, as a sales person you are not taking advantage of consumers because you are selling them a legitimate product. You are compensated for your efforts through the commission that you earn on your own personal sales, as well as the sales of the people that you've sponsored (the people in your downline).
Pyramid Scheme
A pyramid scheme is just like a traditional MLM, with one BIG difference. A pyramid focuses on recruitment (90% of their emphasis) as opposed to products. With no product to market/sell, it seems like it would be pretty difficult to make money in a pyramid.
Why are people spending money on nothing?
Online pyramid schemes are simply selling a spot within the compensation "matrix" (fancy way of saying pyramid). People buy into these pyramids to build their own downlines, and collect a percentage of the commissions that their downline generates.
Often times these pyramid schemes come up with a phony product that is simply a front to appear legitimate. They need this retail front to justify the money coming in. They also need some form of a product to attract more customers. Although, it doesn't take a rocket scientist to determine what people are really buying (their spot in the matrix).
Fortunately, pyramid schemes are not sustainable. You can only get away with selling NOTHING for so long. Eventually, members will not be able to recruit anymore suckers. At this point they will cancel their membership, which will lead to the people in their "upline" canceling because they lose the commission that was covering their own cost of membership. It goes like this all the way to the top and before you know it, the whole pyramid has crumbled.
Sorry, I got a little carried away with that explanation. Lets get back to the point at hand. The Legends Network.
Program Overview
---
The Legends Network (TLN) was founded by three well known MLM-ers:
Jerry Gonzalez: An extremely successful network marketing professional.
Val Smyth: A professional marketer of 36+ years. Smyth likes to preach on the importance of giving back to others. I dig this philosophy, as it is crucial to focus on helping others, in order to succeed. However, I read that Smyth has actually left TLN (because it is beginning to crumble Ipresume) and created an identical pyramid. Practice what you preach my friend!
Robert Bremner: I saved Bremner for last because he has the most interesting story. He has made a lot of money with MLMs. However, in 2001 Bremner was convicted of tax evasion. Some of the income, that he failed to file, was made through a company called Consumers Buyline. This company was shut down, in 1998, after 25 state investigations determined it was a pyramid scheme.
TLN's Products and Services
The main "product" is a series of audio interviews featuring leaders in the home business industry. When I first stumbled upon a review of TLN, I thought these interviews sounded like a great feature! I love learning tips and secrets from experts. However, I didn't realize that was all that was being sold. Literally, that was it. You bought into the program to hear these interviews. Not worth the price and that seems incredibly difficult to sell to others.
I'm guessing that's why they added other products….
The products they added are through a company called Nutronix. Nutronix is an MLM that markets nutritional supplements. The Legends Network and Nutronix seem like an odd pairing, but it turns out Bob Bremner is the CEO of Nutronix.
Ah, now it makes sense!
It appears to me, this is complete speculation, that TLN added Nutronix's products in order to look more legitimate. They seem to have rebranded themselves as a "lifestyle enrichment" program. This connects the interviews with the nutritional supplements.
The Compensation Plan
---
To qualify for the compensation plan you will first need to pay $129. After that you can choose between the basic plan ($24.95 per month) or the pro plan ($49.95 per month). These fees buy you your spot in the pyramid.
How do you make that money back?
The compensation plan requires you to recruit other affiliates and you will collect commission on their membership fees. Commissions are made through a 2×15 matrix. You can unlock additional positions within your own matrix by filling a recruitment quota.
Commissions through Recruitment
TLN utilizes a 2-up compensation plan. This means that the first two people you recruit will go to your upline. Your upline will receive $50 for these "pass-ups."
You will receive $80 for every sale you make after the first two. Once your pass-ups reach three sales, you will receive $30 for every affiliate that they recruit.
You will also receive $30 each time a member of your pass-up's downline makes a sale (after their first two pass-ups) and $30 each time a member of your downline makes a sale.
Confusing enough for you? Here's a picture!
Residual Commissions
You will earn recurring commissions from your downline's monthly subscription fees. The amount you earn is dependent on the plan that you signed up for:
Basic Plan: As a member of this plan you will receive 50 cents for levels 1-10 (of your matrix) and $1 for levels 11-15.
Pro Plan: $5 for level 1, 50 cents for levels 2-10, and $1 for levels 11-15.
As you can see, the initial bonuses seem great (at this point the program is a year old and it will be hard to recruit people) but the residual income is terrible.
The Final Word…
---

The Legends Network is a scam. I'm not saying that it can't make you money, I'm sure it can. However, it is a pyramid scheme and it is already showing signs of crumbling.
Not only is it immoral to participate in a pyramid, but promoting a pyramid scheme is actually illegal. Perhaps TLN has fluffed up their program enough for it to appear legitimate in the eyes of the law, but I recommend avoiding the program altogether.
Don't Give up on Your Dream of Making Money Online!
If you want to learn how to make money online, there are plenty of legitimate programs out there! You just need to learn how to detect a legitimate opportunity in a sea of scams.
Unfortunately, it really is like looking for a needle in a haystack. 
I can make that search a little easier! Check out the review of my #1 recommendation for an affiliate marketing education. It's a program that will allow you to "try before you buy." This means there is a free starter membership, so you can determine for yourself if it's the right program for you.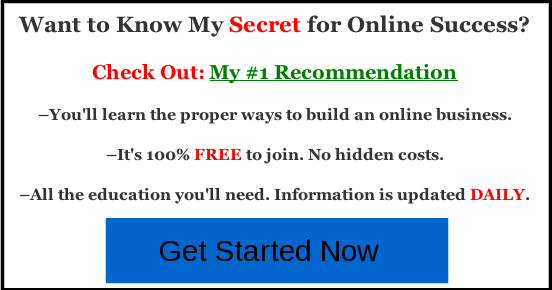 ---
Do you have any personal experience with The Legends Network? Any questions or feedback? Leave it in a comment below and I will add it to my review!