Name: Partner with Paul
Website: http://www.partnerwithpaul.com
Price: FREE (Technically)
Owners: Paul Myers (Allegedly)
This Partner with Paul review is going to be short and to the point. The reason being, there really isn't much of a program to review here. However, there is a blatant scam to address. After reading this review, my hope is you will avoid the "program" altogether. Read on!
Program Overview
---
Partner with Paul has been around for many years now, but I only stumbled upon it recently. As I said above, there really isn't a program here.
What am I talking about?
Well this website appears to be a combination of a lead capture page and doorway site. You'll sign-up, thinking you are about to be working directly with "Paul," only to be spit out at another MMO (Make Money Online) program. "Paul" now has your email address (so he can continue to send you offers to other programs), and if you join the program that he leads you to, he will collect commission on the sale.
This is a very misleading sales page. When I signed-up, I was taken to a program called My Online Business. I'm not going to go into much detail about this program, because I may write a review on it in the future. My Online Business had a very lengthy sales video that was full of scammy guru techniques. They actually claim that they will make you $10,000 your first day. There is no such thing as overnight success and no legitimate business man will tell you otherwise. In fact, within "Paul's" sales-page he says as much:
The only other thing I want to point out about My Online Business' sales video is the fact that the testimonials are fake.
Here is proof:
…and now….
Clearly, My Online Business is a scam (maybe I won't write that review, I already spoiled the ending). So why would "Paul" direct you to a scam? The answer to that is simple: He is affiliated with this program. When you sign-up through him, he collects a commission.
This isn't the first program that Paul has been affiliated with. Originally, Partner with Paul would direct you to Herbalife. Herbalife is an MLM (Multi Level Marketing) company that sells weight loss and skin care pills. When he was partnered with them, he would send you their DVD for the cost of shipping and if you didn't cancel within 20 days, he would charge you $30 a month.
Absolutely despicable!
The Partner with Paul program has also been associated with the following programs:
SurveyScout
Send Earnings
Traffic Brokers
Success with Anthony 2
REO Rockstar
Matthew Lesko's Treasure Chest
Project Payday
It appears to me that "Paul" simply switches the program that he is promoting every once in awhile. He doesn't provide you with much of his own. This is simply a bait and switch.
The Final Word…
---

Partner with Paul is a scam. There really isn't a program here to speak of. It is simply a bait and switch to get you signed up with another program (whichever is the flavor of the month). He does collect your email address, so you can expect a lot of spam emails in the future.
There is technically nothing illegal with what he's doing, but it is completely deceitful and immoral. For that reason, I don't recommend this program to anyone.
DO NOT partner with Paul!
Don't Give up on Your Dream of Making Money Online! 
It can be difficult finding a legitimate program that can teach you how to make money online. The number one indication, that a program is a scam, is when they promise you overnight success. Overnight success does not exist. To make money online you will have to work hard, just like making money in real life.
I can help you in your search for a legitimate program. Check out the review of my #1 recommendation. They are an online community that can teach you how to build your own online business. You will have to work at it, but by following along with their training you can create a full-time income. The best part is, they offer a FREE starter membership.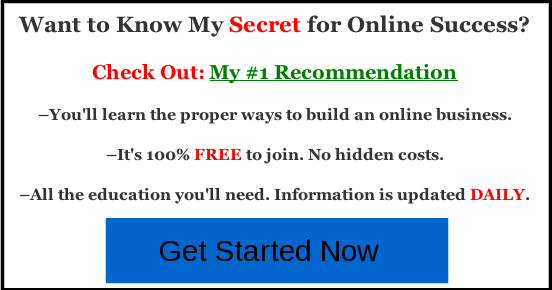 ---
Do you have any personal experience with "Partner with Paul?" Any questions or feedback? Leave it in a comment below! I love hearing from you guys!