Name: 30 Minute SEO
Website: http://www.30-minute-SEO.com
Price: $13.95 (one time fee), + upsells
Owners: Stuart Avis
30 Minute SEO is an ebook by Stuart Avis. It was written to teach it's readers how to implement strategies for getting their content ranked high in the SERPs (Search Engine Result Pages). Is the information within valuable? This 30 Minute SEO review answers that question and more! Read on!
Product Overview
---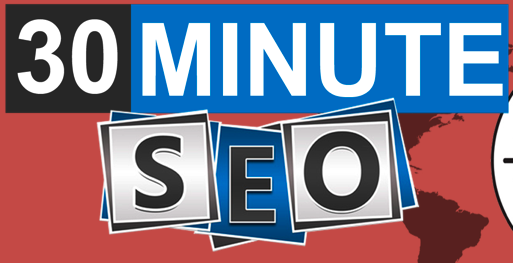 30 Minute SEO is a 61-page Ebook that promises to teach you proper, and up-to-date, SEO techniques.
What is SEO?
SEO, or Search Engine Optimization, is the process of optimizing your website (or individual posts) to rank high in the SERPs. When your website ranks on page 1 of the SERPs, you will receive a lot of organic traffic. Traffic is the lifeblood of making money online. Without traffic you will not have a business for long. Be it a traditional brick and mortar, or a website; without traffic, your business will crumble.
Clearly, proper SEO is important, but does 30 Minute SEO do a good job of explaining it? Lets dig deeper….
What Does 30 Minute SEO Cover?
The ebook does a very good job of covering most of the information that you will need. There is a lot to cover, so most of information is summarized. In fact, some sections, that are summarized, should really be expanded on in the book.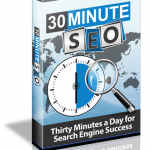 Overall, most of this information is very basic. Intermediate and expert marketers will find they already know most of this (can still be useful for polishing your knowledge). Obviously, this book is intended for beginners but there is too much vital information missing for beginners to get much use out of it (more on that later). The information that is present includes:
Basic SEO information (the first 20 pages).
Black Hat vs White Hat. It clearly states to avoid Black Hat techniques and I appreciate that. I've
seen a lot of programs that teach Black Hat techniques without revealing that they can be detrimental to your site.
Proper keyword utilization.
Getting your content shared on social media sites.
All of this information is accurate and up-to-date (the Ebook is fairly new). I believe that some of what is missing may be provided to you if you purchase the upsells.
You heard me right. I said upsells….
The Dreaded Upsells 
This product features two upsells:
30 Minute SEO Advanced – This upsell will provide you with 10 additional worksheets that are meant to help you strengthen the areas of your site that need optimized.
30 Minute SEO Elite – This is essentially an option to subscribe to a webinar that will keep you up-to-date with your SEO knowledge.
I love the option to subscribe, because products are not as good as programs.
What's the difference between a product and a program? I'm glad you asked!
The Difference Between a Product and a Program:
A product requires a one time fee, where as a program is a monthly fee. Obviously, it would be nice to pay a one time fee and have all of the information you'll need, in one convenient package, but that's not how this industry works. What it takes to succeed online, and rank well in the SERPs, is constantly changing. Google, and the other big search engines, are continuously improving on their search results. As marketers we have to stay up-to-date on what it takes to rank.
A product essentially has an expiration date. It is only a matter of time before Google updates their algorithm again and we, as marketers, will have to reevaluate our SEO. That is why a program that you subscribe to, that consistently updates it's information, is much more valuable than a product.
30 Minute SEO actually covers Google's past updates (Panda, Penguin, Hummingbird), and all of it's information is current. This option to subscribe, that they provided as an upsell, tells me that they will keep their information up-to-date.
Kudos!
Pros and Cons
---
Pros:
The information is current and accurate. This is not always the case with Ebooks.
It's great for intermediate and expert marketers who wish to polish their existing knowledge.
At $13.95 (excluding the upsells), it's CHEAP.
Support is offered in the form of Stuart's email address. This means their isn't extensive support, but it's neat, not to mention rare, that the owner is willing to do that. You can ask questions as they arise, which is awesome, but don't expect an immediate response (BOOOO).
There is a facebook group that you will receive access to. Here you can mingle and network with fellow members.
Cons:
You'll need to purchase the upsells in order to get the most out of the product.
It doesn't cover how to find a profitable niche. This makes it less than ideal for beginners.
It does not provide thorough coverage of keyword research. It teaches how to implement keywords, but it doesn't reveal how to research potentially profitable keywords.
It doesn't provide enough information/education regarding Affiliate Marketing. This is a shame, because 30 Minute SEO is geared towards affiliate marketers and beginners will need more information on this subject.
While this product is supposedly written with beginners in mind, it's clear to me that it is lacking too much vital information to be of any use to beginners. Beginners will need to spend more money to learn this information. For that reason, I cannot ethically recommend this program to beginners.
The Final Word…
---

30 Minute SEO is a good product, but it is nowhere near as comprehensive as it could, and should, be. I appreciate the fact that there is an option to subscribe to a monthly membership (it allows members to stay up to date on what it takes to rank), but it still isn't the best option for beginners. In fact, beginners will be left with a lot of useful information and no real clue what to do with it.
For a complete course on making money online, I only have one recommendation. It covers everything that 30 Minute SEO covers and then some! You won't only learn how to rank high in the SERPs, you will learn how to build an online business from top to bottom. The best part: It is completely FREE to start with. That's right! They allow you to try before you buy, so you can decide for yourself if it's right for you!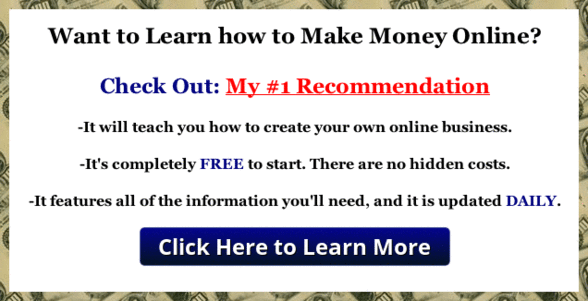 ---
Do you have any personal experience with 30 Minute SEO? Did I miss anything that you feel is important? Leave it in a comment below and I will add it to the review!