My Pure Leverage Review
Name: Pure Leverage
Website: http://www.pureleverage.com
Owners: Joel Therien
Price: $24.95 per month
Pure Leverage is another pyramid style Multi-Level Marketing (MLM) scheme. In my Pure Leverage review I hope to educate you on the pros and cons of the program. By the end of this review you will be able to determine if you can leverage "Pure Leverage" to fit your needs.
Program Overview
---
Pure Leverage launched in 2013 at a price of $24.95. This price point is cheaper than a lot of the similar MLM schemes out there. That's right! This is another scheme.
This system is part of Global Venture Opportunities (GVO). GVO is an umbrella company, founded in 1999, that provides auto-responder services and hosting to Internet Marketers.
In order to sell GVO products, you will have to buy them first (pyramid scheme). Can you sense the upsells coming? The tools you will have to purchase include:
Lead Capture Systems
Video Conferencing
Auto-response
Video Email Services
These tools aren't bad, but a pyramid scheme creates artificial demand for them. This is because the people who buy the tools are promoting them in order to make commission and recoup the money they put into the system. In actuality, these tools are inferior to a lot of the services already available online.
Who Can Benefit From Pure Leverage?
Supposedly, this system is designed for marketers of any experience level. This really isn't the case.
Most people will find this program to be nothing more than a bunch of tools that they can't utilize. The biggest opportunity for income, from this program, is the affiliate program (Read More on Affiliate Marketing) as opposed to the "main" tools that are offered. Even this avenue is troublesome, due to the complicated payout system.
The whole point of the program is for you to get other people to join under you. Pure Leverage claims that you will receive 100% commissions for your referrals. In actuality, you will only receive 100% the first month.
Here is a breakdown of the Pure Leverage payment system: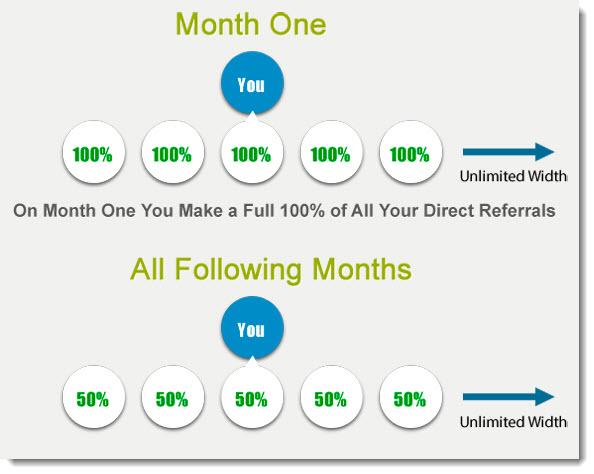 The whole point of an MLM scheme is to make money by selling/promoting the product you've already purchased. This creates artificial demand for the product, despite the fact that the product is inferior to preexisting ones. The only people that truly benefit from a pyramid scheme, are the ones at the tippy top of the pyramid. Not the members.
Pure Leverage Tools and Services:
A lot of the complaints about Pure Leverage are regarding the quality of the services. Beyond the A-Z study guide, there are tools that are supposed to be user friendly.
Here are some of the tools:
Easy Lead Flow Lead Capture System – This system allows you to put up pages that collect leads. There is no point in having lead pages if you do not know how to accumulate natural traffic.
If you do not know how to build a website, you will not be able to effectively build traffic (without paying big bucks on advertising).

Elite Coaching Program – The training you will receive, in this program, is on "attraction marketing." Essentially, the training is meant to teach you how to sell Pure Leverage to others.
Authority Blog – Pure Leverage does give you access to your own blog. Unfortunately, these blogs are only meant to promote Pure Leverage. These blogs will not allow you to promote any other niche. These blogs do not rank well, which deems them useless in terms of SEO.
Support (If I can call it that):
Members of Pure Leverage will receive access to the Insider's Club. Any complaints, regarding the program, are met with attacks from fellow members. This tells me that the member populated support is a lot of backstabbing, especially if you question the system.
The owner, Joel Therien, has also been seen attacking people who complain about the system. Wow, that's a tremendous red flag.
On a positive note, they do offer a lot of ways to contact them and they've definitely improved their lines of support. Unfortunately, the complaints remain.
Being able to ask questions freely is of the utmost importance when you are learning how to make money online. When you see a lot of complaints regarding a program, pay close attention them.
The Price is $24.95… or is it?
The $24.95 per month price point is cheap! There are upsells during the sign up but they are optional and you should avoid them.
If you wish to become an affiliate, you will have to pay an additional $19.95 per month. This brings the total to $44.90 per month. There is an additional level called the VIP program that provides exclusive training and prebuilt campaigns. This level costs $97 per month. The grand total is $141.90 per month. Sneaky sneaky.
You'll have to pay to the level that you want to earn. So, to earn money selling the VIP level, you'll have to be invested at $141.90 per month. These types of upsells are typical of MLM schemes.
Pros and Cons
---
Pros:
A study guide is provided.
Cheaper than a lot of similar schemes.
Cons:
There are a lot of pieces of the program that are listed, but aren't yet available.
The affiliate reviews for the program are outright lies.
The commission program is confusing.
Therien is often aggressive towards anyone who speaks negatively of the program.
Upsells galore.
The Final Word…
---

Pure Leverage is a blatant scam that is just out for your money. It utilizes tactics that are all to common in MLM schemes. Too many upsells, not a healthy community, sub par tools, and lies throughout.
Critics of the program are met with threats from angry affiliates. This type of behavior is natural of people involved in such a scheme.
In a pyramid scheme, the only people that benefit are at the top. This means the owners, not the members. You've been warned.
Tired of Scams? Click Here for My #1 Trusted Program!
---
Do you have any personal experience with Pure Leverage or a similar MLM scheme? Leave it in a comment below!