Quick Sprout University Review
Name: Quick Sprout University
Website: http://www.quicksprout.com
Owners: Neil Patel
Price: $97
My Quick Sprout University review will tell you the pros and cons of the program. By the end of this I hope to have answered all of your questions regarding the program. From there you can determine if Quick Sprout University is worthy of your time and money.
Program Overview
---
When it comes to making a living with affiliate marketing it is important to stay ahead of the information curve. The Quick Sprout University program is designed to teach users to generate traffic to their preexisting blog or website. This would be good if it were a subscription based program. However, because it is a one time fee, you will need to pay more money to stay informed on what it takes to accumulate natural traffic to your site.
Who is Neil Patel? 
Neil Patel, the owner of Quick Sprout University, is an analytics expert who has consulted for some big names in the business. He is best known for the work he has done in digital marketing. He is also the cofounder of the analytics companies: Crazy Egg and KISSmetrics.
He is certainly a knowledgeable and successful guy, but you won't be able to find him within the program. He is not available to answer questions. In fact, after his little introduction, I never saw him again. Other people do the training. Quick Sprout University is not his primary focus.
What Does $97 Buy You?
There is some good information within QSU. However, I have experience within the industry. So this information makes sense to me.
People who are inexperienced with Internet Marketing are going to have a difficult time deciphering this information.
Personally, I don't believe a newbie can implement this information without help. Unfortunately, you will be on your own with this program. No help to be found, beyond the tutorials.
The training includes:
More than 100 video tutorials
A transcript for each video
eBooks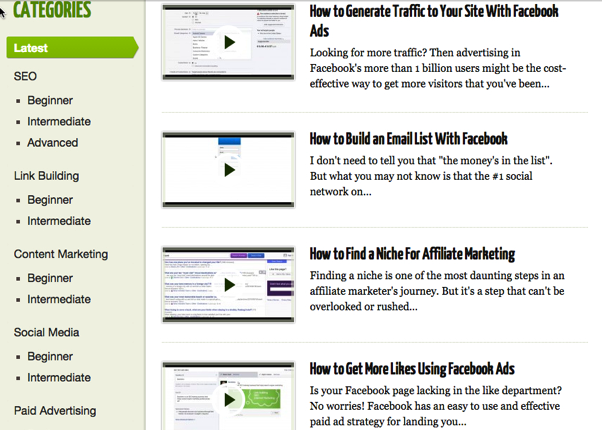 As I've said, this information is good. However, it does not go nearly as in-depth as it should. The tutorial videos are about ten minutes apiece. I don't believe this is enough time to fully cover some of the more important topics.
Support and Community:
This is the weakest point of the product. Granted, this is a product and not a program. You are only paying a one time fee, so you are limited to the information that you pay for. With a product (as opposed to subscription based program) there is no community.
When there is no community, you can not ask questions of fellow users. Learning from similar minded people's mistakes is a huge time saver, and a key to success online. No community means no network, and no network means no success online.
There is no support offered at Quick Sprout University.
Pros and Cons
---
Pros:
There are over 100 video tutorials and each one is backed up with transcripts.
There is Search Engine and Conversion Optimization training.
Certification courses.
Cons:
The tutorials are not as in-depth as they should be.
No help desk – Disappointing support.
No community or forum where you can ask questions of fellow members.
You cannot contact Neil directly.
Not for beginners in Internet Marketing.
The Final Word…
---

I can't say that Quick Sprout University is a scam, nor can I say that it is right for everybody.
There is some good information provided, as well as some great free resources. However, I don't find this program to be very user friendly. It's not a resource that you can continuously draw from and there is no community to speak of.
It appears as if it is marketed towards beginners in the industry. I believe beginners have the least to gain from this program. You need a fundamental understanding of Internet Marketing just to utilize the information provided.
Intermediate level Internet Marketers can use this information to build traffic to their preexisting blogs/websites. However, because there is no community, you will be completely on your own. You can't ask questions of fellow users. This puts you at a disadvantage overall. Learning from the success and failures of other users is a huge help in this industry, and this product does not offer that.
Take Quick Sprout University for what it is. A one time payment of $97. Chances are you already know the information provided and if you don't, you're probably too green to the industry to understand and implement it correctly. That is not to say that the information isn't good, but there is a limited amount of people that can actually benefit from it.
If you are just starting out with Internet Marketing or you are looking for frequently updated information on building traffic. I suggest you read the review I linked to below:
Click Here for My #1 Recommended Program!
---
If you have any questions or feedback regarding Quick Sprout University, or any of the information provided above, leave it in a comment below! I will be sure to get back to you!