Niche Profit Classroom Review
Name: Niche Profit Classroom
Website: http://www.nicheprofitclassroom.com
Price: $1 for 7-day trial, $67 per month
Owners: Adam Short
This Niche Profit Classroom (NPC) review will cover all of the pros and cons of the program. NPC's training focuses on building niche websites for affiliate marketing, marketing your own products, and email marketing. By the end of this review, you will be able to determine if Niche Profit Classroom is right for you!
Program Overview
---
The training consists of detailed video tutorials. These tutorials will walk you through the entire process of making money online.
There is an active community forum, which is a must for networking purposes, and webinars set-up for community support.
What's the catch? Is Niche Profit Classroom a scam? Lets dig deeper.
Digging Deeper…
NPC claims to train members to build websites that are "evergreen, automated, and simple." This means that the sites are easy to create, they require very little follow-up maintenance, and they will generate passive income for a period of time.
I do not believe that automated websites that require little maintenance will last in the SERPs. A sites success with the search engines is dependent on consistently posting original quality content. This brings me to…
Pre-made Niche Packs:
Every month NPC provides pre-made niche websites to ALL of their members. Evidently, the purpose of these sites is to help beginners see how a properly built site should look. The owner of NPC, Adam Short, says that members can "tweak" these websites to use as their own.
If a member were to actually "tweak" a site and put it up for profit, they would be facing duplicate content issues. After all, these pre-made sites are provided to EVERY member. The search engines frown upon duplicate content and will actually penalize your site. Basically, these pre-made sites will not rank (even if you alter them).
Tools and Training: 
As a member of Niche Profit Classroom, you will receive the following tools and training.
WordPress site builder and hosting – You are allowed to host 15 of your domains. However, these domains are non-transferable. If you leave the NPC program you will lose access to them.
A keyword tool
Market Profiler Tool – This tool assesses the income potential for any given niche. Ultimately, your profit will rely on the work that you are willing to put into your website.
A guide that will allow you to find a niche market.
Here is an Inside Look: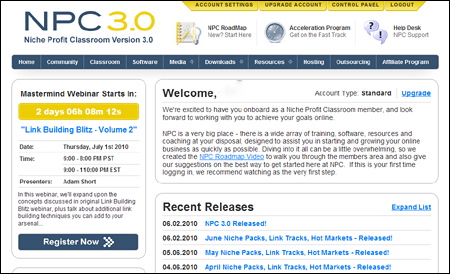 Support:
I've read a lot of complaints regarding NPC support. These complaints site bad customer service experiences and slow response times.
In my own personal opinion, the support is really good. My questions were answered in a reasonable amount of time. I have no complaints.
There is an active community forum. This is a big plus! The ability to ask questions of fellow members is a huge help. Building a network is vital for success in Internet Marketing, especially if you are just starting out.
Is it Worth $67 per Month?
The training and tools are all legitimate, but the $67 price point is a little steep. Is it worth it? Technically, yes! However, before you buy into it you should know that there are better programs that are cheaper.
Pros and Cons
---
Pros:
Easy to follow training.
$1 for 7-day trial (practically "try before you buy")
There is an affiliate program that pays you monthly for every member you refer.
Teaches fantastic techniques for generating traffic.
There is a decent keyword research tool. However, I still recommend JAAXY.
Cons:
There is no PPC (Pay Per Click) training. This isn't a technique for beginners, but once you've built some experience you will want to know how to implement a PPC campaign successfully.
Does not update information monthly. Staying up to date is of the utmost importance online.
After a few months you will not need to continue your membership, because you will have learned all the information provided.
You cannot transfer the domains that you host at NPC. This means you are forced to stay with the program or you will lose your sites.
The Final Word…
---

Niche Profit Classroom is a great program. It will teach you everything that you need to know in order to succeed with affiliate marketing. The 7-day trial is only $1. While I normally advocate "try before you buy" sites, $1 is cheap.
Having said that, there are some flaws. The information is up to date but it is not updated frequently enough to constitute paying a $67 monthly fee. You will learn everything they have to offer you and not need to re-subscribe.
They are clearly aware of this fact. So, in order to keep you subscribed, they make it so you can't transfer the domains that you host with them. You'll have to stay subscribed to retain access to your sites. You can get around this easily by having NameCheap, or another service, host your site for you.
All in all, NPC is a great program. However, there is a BETTER program that is cheaper and offers updated information everyday. Staying ahead of the information curve is crucial in this industry. For more information, read my review of Wealthy Affiliate by clicking the banner below!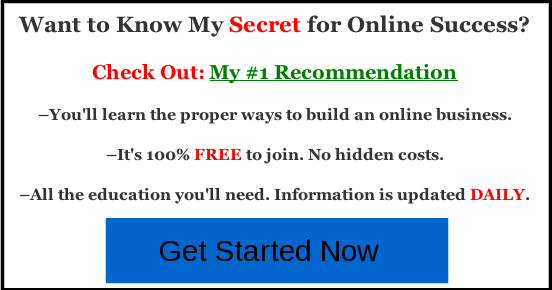 ---
Do you have any questions or feedback regarding Niche Profit Classroom? Any personal experiences, with the program, that you would like to share? Leave it in a comment below!