Name: Power Lead System
Owners: Neil Guess, Michael Price
Price: $30 per month for membership, $24 per month to market the program for commissions
Power Lead System claims to offer a "business in a box," but are they just another MLM (Multi Level Marketing) scheme? This Power Lead System Review will give you the pros and cons of the program, allowing you to make an informed decision before you buy. Read on!
Program Overview
---
The Power Lead System (PLS) gives it's members access to "the most powerful marketing tools available." They didn't create these tools, nor do they actually own them. These are simply tools, that you can find elsewhere, that they've packaged up for you in one convenient place.
You receive access to these tools for your membership fee of $30 per month. Not a bad deal! A lot of the times, finding all of the right tools for you and your business can result in a lot more than $30 per month! However, each person's needs are different and these tools are definitely not "the most powerful" as advertised. In all honesty, the tools provided by PLS are average at best.
What's the catch? Why would you spend $30 a month on average tools that PLS doesn't even own?
The real draw for PLS is the fact that they are operating on an MLM platform.
What is Multi Level Marketing?
Multi Level Marketing is the practice of using paying customers to advertise your products for you. It saves the company, utilizing it, a lot of money on advertising because they only pay their affiliates commission on each successful sale. PLS offers 100% commissions on each sale that an affiliate closes.
A lot of people will tell you that an MLM platform is just a pyramid scheme.
I couldn't disagree more!
A pyramid scheme occurs when an MLM company puts 90% of it's emphasis on further recruitment, as opposed to developing good products. When you have to pay for the right to sell the same program to others, chances are you are buying into a pyramid scheme.
There are MLM companies that actually offer GOOD products. When this occurs, it isn't a pyramid scheme because the products offered are something that consumers would purchase anyway (Avon is a good example of a company with an MLM platform). MLM companies simply utilize their satisfied customers to promote further sales. They are only successful so long as their products are in demand, which means their emphasis is on providing top quality products as opposed to customer acquisition. A good product sells itself at the end of the day.
Where does Power Lead System fall? Is it a pyramid scheme?
Power Lead System actually has a product to promote, the package of tools. However, they do not actually own these tools. This leads me to believe that they provide these tools for legal reasons, so that they appear to be a legitimate MLM company. It's pretty clear that their real emphasis is on customer acquisition, so I'm inclined to believe that it's a pyramid scheme.
It costs $30 for the membership, which includes access to the tools, but you can pay $24 per month to simply promote the tools to others and receive 100% commissions. Do the math and you'll see that apparently the membership, and the tools, are only worth $6 a month.
I guess they are aware of the fact that their tools are pretty average. 
PLS doesn't provide any real training. So if you were hoping to find an affiliate marketing education, you're out of luck. They simply provide the appearance of a real product and if you pay them you can sell the right to resell this fake product to others.
You read that right! You have to pay them for the RIGHT to sell the same job to others. 
100% Commissions
It takes a special kind of "shark" to become successful selling an empty product, like PLS, to others.
If you are one of these unethical sharks, shame on you!
If you've disregarded that shame and still want to promote PLS, you will receive 100% commission on each sale. That means you will receive $30 for each person that you get to sign up.
Sounds great right? WRONG!
For the right to sell you'll have to pay at least $24 a month. That means you would have to clear 2 sales a month to be profitable. That is a lot easier said than done when you are promoting a completely empty product. We've already established that the tools PLS offers are only worth $6. You would have to be incredibly malicious to sell these products for $30.
Personally, I believe that they offer 100% commissions just to get people interested in promoting them.
Another indication that Power Lead System is a pyramid scheme. 
The Final Word…
---

Power Lead System is a pyramid scheme. They are promoting products, not just the right to resell them. However, the products aren't great. It would take a "shark" to be successful with this system. You'd have to be comfortable taking advantage of beginners. For this reason I believe Power Lead System is a scam. The whole purpose of Pajamas and Tie is to keep people from being taken advantage of. You may be able to make money with PLS, but I cannot ethically promote it.
If you are serious about starting an affiliate marketing career, you should find a program that will teach you how to promote ANY products you want. With PLS your growth potential is limited because you are only encouraged to promote PLS to others. You are not taught how to promote ANYTHING else. Granted, you can take what you learn from promoting PLS and apply it to any other niche, but you'll find this to be a difficult endeavor. You're better off getting it right the first time and starting with a program that puts it's emphasis on education, as opposed to recruitment.
The people who are most successful online are the people promoting things that they are passionate about. There are programs that can teach you EXACTLY how to do this, and PLS isn't one of them. Stop making other people money and start selling products on your own terms.
Find Your Future Success Story Here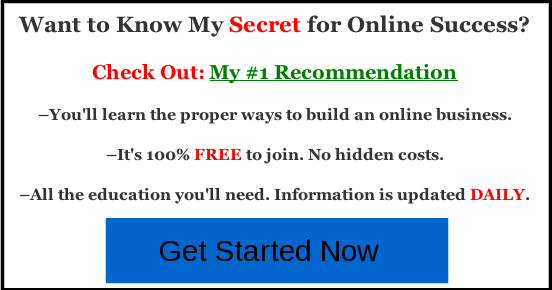 ---
Do you have any personal experience with Power Lead System? Any questions or feedback? Leave it in a comment below! I'd love to hear from you!