Name: Excel Cash Flow
Price: "Cami White"
Owners: $27 (After discount)
Excel Cash Flow is another link posting site. To me, link posting sites are very similar to survey sites. You put in a lot of work for little return. This Excel Cash Flow review will outline the program so that you can make an informed decision before you buy into it. Read on!
Program Overview
---
Getting paid to post links sounds like an awesome way to make money. It's appealing to people that want to make a quick buck without a lot of effort, but that's not the way the world works.
If it sounds too good to be true, chances are it is. 
The truth is, link posting is a dying industry. Excel Cash Flow will tell you that the demand for links is high and individuals/companies are willing to pay a lot for links in order to build traffic to their sites. Unfortunately, this is not completely true.
Building traffic is incredibly important for the success of a website. Back in the day, people would utilize link building as a way to create artificial demand for their website which would increase their rank in the SERPs (Search Engine Result Pages).
However, search engines aren't stupid. They caught on to the act! Now, Google will actually penalize sites that utilize excessive link building.
What does this mean for you?
Well, if you were considering link posting as a way of making money, I'd reconsider. The amount of money, per link posted, is decreasing rapidly.
Beware the Hype…
Yes, link posting is a dying industry. But Excel Cash Flow tries to paint a different picture.
Statements like this are just wool over your eyes. Excel Cash Flow is fully aware of the fact that most people are looking to make quick easy money online (as opposed to establishing a lasting online business). Campaigns like this are designed to sell you on the dream of making easy money, without telling you what it will actually take to succeed.
With Excel Cash Flow, you will not actually be paid for each link you post, but rather, you will be paid for each link that sticks. This is easier said than done, because the links that you will be posting are not of good quality. These links are easily recognized as spam, and will be removed quickly.
The odds of you actually making $15 per link are very low. The average cost per link is $1. Considering the fact that it takes a long time to post a link that actually stays put, you're looking at $20 a day if you are REALLY lucky.
On top of all of this, you have to make the cash threshold before cashing out. You'll have to invest a lot more than 60 minutes a day to cash out with any semblance of regularity.
Duplicate Scam Site Spotted!
A duplicate scam site is a site that steals, or utilizes, previously published content or advertisements.
Sound confusing? Take a look at these pictures: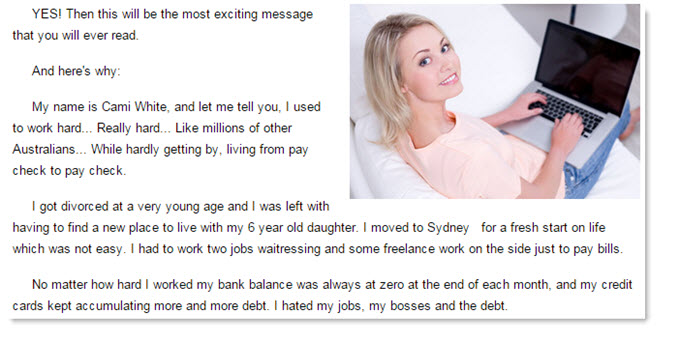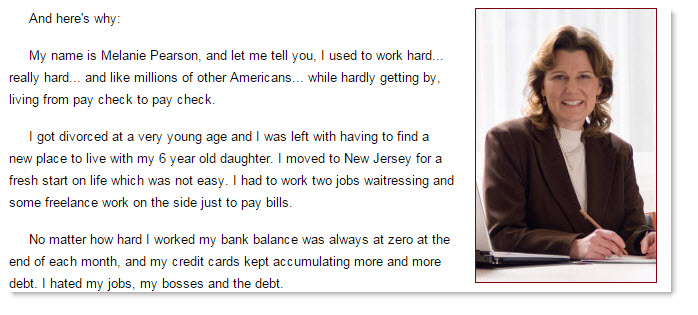 The first image is taken directly from the Excel Cash Flow sales page. The second image is taken from an entirely different site. Clearly, Excel Cash Flow is a duplicate scam site. They are trying to utilize what was successful for one person, in order to bump their own success.
This is a big RED FLAG. If they aren't creative enough to come up with their own pitches, what could they possibly teach you? When sites use duplicated content, I can't trust them. I doubt that the owner is actually "Cami White" because her picture is taken straight from a stock photography site.
Suspicious, to say the least. 
Note: Even if you were unaware that this was duplicated content, you should have still been put off by the hype within the images. BEWARE THE HYPE! Never be sold solely on the dream, you have to make yourself aware of what you are getting into.
The Final Word…
---

Excel Cash Flow is a scam. Ignore the artificial demand and the hype surrounding this product. Link posting is not a good way to make money in general, it is a dying strategy. More and more website developers are turning to other methods of generating traffic.
How can you make money online?
This is a no brainer to me. Cut out the middle-man! Instead of posting links to somebody else's website (and making THEM money), make your own website! I wrote content for web developers for a year, making around $5 for 500 words. It was all I knew how to do, and I thought owning/operating my own site would be far too difficult.
I was WRONG!
I became fed up with writing content for other people and I decided I needed to figure out how to write content for myself. That is when I found Wealthy Affiliate. Wealthy Affiliate is the "try before you buy" program that taught me everything I needed to know about building and monetizing my own website.
I'm still writing content everyday, but instead of earning $5 per post, my posts make me money over and over again. Before I was only making money for other people. I cut out the middle-man! Now, I make passive income through Affiliate Marketing.
This is the easiest way for beginners to make money online, and I recommend it to all of you.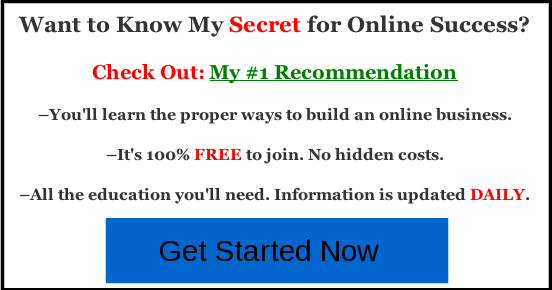 ---
Do you have any personal experience with Excel Cash Flow? Any questions or feedback? Leave it in a comment below!