Online Web Cash Review
Name: Online Web Cash
Website: http://www.onlinewebcash.com
Price: FREE to sign-up
Online Web Cash is a scam that doesn't even take the time to be clever about it. This Online Web Cash review will explain to you why you should be running for the hills every time you see a program like this. Read on!
Program Overview
---
I'm warning you now, this review is going to be short and to the point. Normally, I provide a thorough explanation of a program but this time I am not going to.
Why is that? 
Well, there really isn't a program at Online Web Cash. You're probably pretty confused at this point. Allow me to explain:
What is a "Doorway Site?"
Online Web Cash is simply a doorway site. That means the owner of the site will try to get you to sign-up with other programs through their site. He/she is affiliated with these other programs, so they will collect commission for referring you. The site itself does not provide any information that can help you, it simply refers you to somebody else and allows the owner to collect their paycheck.
Further explanation…
If you try to register with Online Web Cash, you will navigate to a page named "The Free Bucket."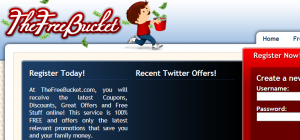 What is The Free Bucket?
From the looks of it, The Free Bucket is yet another doorway site. There is a list of offers that will take you to even more programs. Are these other programs scams? I assume so.
You can't access these programs without first registering with The Free Bucket. This would require more personal information from yourself. I do not recommend trying any of these. You need to be very careful about giving away your personal information.
What is a "Duplicate Scam" Site? 
This is where the scam becomes apparent. A duplicate scam site is best summed up with pictures:
As you can see, in the above picture, Online Web Cash has the exact same content as "Online Cash Source." Everything about these two sites is identical, except for the name. The same content, pictures, Photoshopped checks, testimonials… EVERYTHING is identical.
This is often the case with doorway sites. Somebody stumbles upon a formula that successfully dupes people out of their hard earned money, and this formula is repeated and repeated and repeated.
People are looking for "get rich quick" schemes. Overnight success does not exist. Working online is still working. The people that are successful work harder than the people who are less successful.
The owners of these duplicate scam sites are just affiliates looking for a quick buck. They steal content from, or are given access to a doorway site that allows them to plug in their own affiliate links. They're hoping this will give them the same amount of income as somebody who actually works really hard on their site.
Note: This method will not result in much money. Duplicated content is penalized by Google. So if you own and operate a duplicate site, you will not rank in Google. This means you would have to advertise your site all over the place, but most people can recognize scams. You're advertising efforts would be in vain. You would be SOL.
Changing Face
…but not saving face.
Lately, I've noticed that a lot of these duplicate sites are changing their appearance. They will do this periodically, because people begin to recognize the scams. They change their appearance in the hopes of squeezing even more money from the same income machine.
If they applied this type of work ethic to creating a genuine program, I would definitely be able to trust it. These people work awfully hard not to work, and they will eventually fail.
The Final Word…
---

Online Web Cash is an incredibly translucent scam. It isn't even a program, it is simply a doorway page. It will not teach you how to make money, it will simply make more money for the scam artist that owns it. It is important for you to know what these "duplicate scam" sites look like, so you can avoid all of them in the future.
In fact, if you see a site like this, TELL ME! I will add it to the ever growing list of scams.
Note: You do not have to be a scam artist to make money with Affiliate Marketing.
If you are looking for a program that will actually teach you how to make money online, look no further than My #1 Recommendation. It's a program that offers a free starter membership. This "try before you buy" platform allows you to get a feel for the program and decide if it's right for you. Read my full review of the program for more information!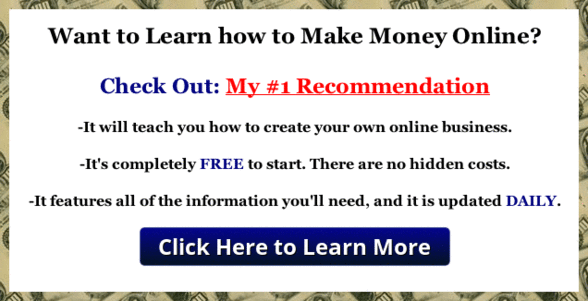 ---
Do you have any personal experience with Online Web Cash or duplicate scams like it? Any questions or feedback? Leave it in a comment below!