Forever Affiliate Review – Does it Stand the Test of Time?
Name: Forever Affiliate
Website: http://www.foreveraffiliate.com
Price: $197
Owners: Andrew Hansen
Forever Affiliate was one of the best products around, for an Affiliate Marketing education, back in 2013. A lot of the information it gives is still relevant and the product itself is put together very well. Does it live up to it's name? Does this information truly work forever? Read on!
Product Overview
---
Forever Affiliate is an in-depth video series that will teach you how to build a niche website and start a career in Affiliate Marketing. This product does provide a lot of valuable information. However, this is a product and not a program.
Information becomes outdated very quickly in the Internet Marketing world. In order to succeed online you have to stay ahead of the information curve. A good program (something that you subscribe to) will update the information that it provides it's users regularly. With a product (one time payment) you'll be limited to the information available at the time of the products creation. In the case of Forever Affiliate, some of the information has become dated.  Were this outdated information to be implemented, it may actually hurt the overall performance of your niche website.
That's not to say that Forever Affiliate is unfair. The product is appropriately priced and were you to have bought it in 2013, you certainly could have made money by utilizing the information that it provides. As I previously stated, some of this information is still valuable but you'll have to know the good information from the outdated information. This makes the product less than ideal for beginners in my opinion.
The Sales Page
Andrew Hansen, the creator of Forever Affiliate, has written a very endearing sales page. I really enjoyed his tone of writing. He remained very personable throughout which is highly effective in driving sales. There were some things about the sales pages that I didn't like.
The language that Hansen uses is meant to sell you on the dream without revealing the work it takes to make that dream a reality.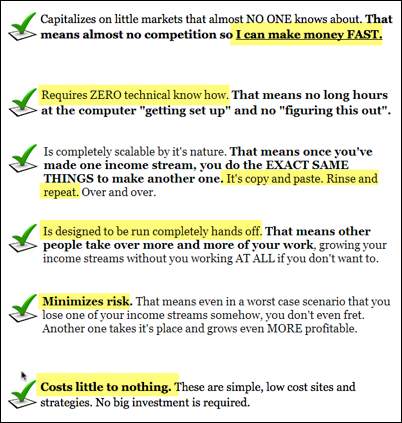 The truth is Internet Marketing takes a lot of hard work. Don't get me wrong, it will start to pay off in passive income. However, to get to the point when you are making passive income you will have to put in a lot of front end work. You absolutely can make a lot of money online, but nothing comes easy. It is still work, even when you are doing it from home.
The Phases
Phase 1: "Pinpoint Hidden Profits"
In this phase you are taught how to find profitable niches. I don't completely agree with everything that this phase has to offer. Hansen points out the "best" niches. When you are first starting out online, it is good to start with a niche that you are generally interested in. This will allow you to have more fun with learning. You may not make money this way but you'll be better prepared to make even more money in the future.
Phase 2: "Ensure and Establish Profits"
This phase is all about making sure you chose a profitable niche in phase 1.
There is some emphasis on mini-sites. Mini-sites are small sites (5-15 pages) that are meant to diversify your income. Unfortunately, these sites don't really work anymore unless you are buying your traffic. The small number of pages just does not leave a big enough dent to register with the search engines.
There is also the idea of utilizing copy writers to create content for you. Trust me, as a former content writer, this is not a great idea. Content writers are severely underpaid and they need to work fast to make money. For a site to be successful it needs one consistent voice throughout. This is the only way to build a loyal audience. Don't try to get out of work. Affiliate Marketing is still work, even if you can do it while traveling around the world.
Phase 3: "Grow Profits"
This phase is mostly about building traffic. The traffic building section is where Forever Affiliate is slightly outdated (See below).
This phase also shows you more ways to outsource your work. Again, I do not recommend outsourcing your work. You need to learn as much as you can about what it takes to be successful before you can do this type of thing.
Outdated Information
The majority of the information is sound and even the outdated information isn't terribly detrimental. However, it is still worth noting.
Hansen puts some emphasis on backlinking as a strategy for building your sites authority. Some backlinking is okay, but Google actually penalizes those over utilizing backlinking. Your site can take a hit in the SERPs for abusing backlinks.
Hansen does talk a lot about creating high quality content. This is great! Quality content is what will truly determine your sites authority. When you create quality content your sites traffic will grow naturally. Quality content takes more time to create. Don't destroy your hard work with link-building. The fact is, link-building is not allowed and doing it will hurt your site.
Pros and Cons
---
Pros:
The videos are very well done and easy to follow. I would recommend them to beginners if ALL of the information was still relevant.
Most of the information is still solid. Again, it is put together very well.
The price is very reasonable.
For $15 you can have WordPress set-up for you. It may be in your best interest to learn how to do this yourself, but having the option is nice.
Cons:
This is a product and not a program. The information within is the same as it was when the product was originally created. As such, some of the information is outdated. It is important to constantly stay up to date in this industry.
False claims of success. You are not going to be that much money in such a short amount of time.
No support. (This is a product and not a program)
The Final Word…
---
Forever Affiliate is a difficult product to rate. If this were 2013, I would absolutely recommend it for everyone. It's priced correctly, the information is easy to follow, it's definitely not a scam, and I feel that overall it is a trustworthy product.
Having said that, it is 2015. Some of this information has become outdated and can actually hurt your site. I really like this product but I can not ethically promote it to beginners for that reason. If you are slightly more experienced in the industry (you can tell the good information from the outdated) you should absolutely check it out! You might learn something!
The biggest flaw with Forever Affiliate is the fact that it is a product and not a training community. A product sits on the shelf and is never updated. If you have any questions at the end of the video series, you are out of luck. A community is updated often (essential for success with Internet Marketing) and it is enriched by the communication of it's members. Being able to network with and ask questions of fellow entrepreneurs is huge!
For these reasons, I always recommend programs over products. Within a good training community your questions will never go unanswered and you will have help with your Affiliate Marketing career every step of the way!
Click Here for the Review of My #1 Recommended Training Community!
---
Do you have any feedback or questions regarding Forever Affiliate? Anything that I've missed? Leave it in a comment below!