Linkbucks Review – Trusted or Busted?
Name: Linkbucks
Website: http://www.linkbucks.com
Price: Free
Owners: Charles Major
Linkbucks is a free site that pays it's users for getting their links clicked. It appears to be a legitimate site but you are not going to break the bank with the money that you earn from it. Why is that? Read my full review to find out!
Program Overview
---
You make money with Linkbucks by creating links that lead to sites with ads. When a link that you create is clicked, the person that clicked it is redirected to an ad before they reach the site that you originally linked to.
In order to make money you will not only have to post links, you will also have to get people to click on them. This is easier said than done. Most people avoid ads like the plague.
With this type of work the pay rate is incredibly low. You will earn $1 for 425 clicks in the highest paid country. Getting 425 different people to click on a link is difficult. If you manage to do that, you will only earn $1. People are only willing to click on your links when they trust you, and they won't trust you for long if you're redirecting them to ads.
The low pay rates and the difficulty of this work combine to make this opportunity pointless. You can work from sunup to sundown and only make a few extra bucks. Linkbucks does not actually provide any training on acquiring clicks. If you want to make full time income online, you should research a career in Affiliate Marketing.
Ads and Spam
As I've said, the majority of people out there do not like ads. I think this is pretty common knowledge. Most people will navigate around ads at every opportunity. You are up against terrible odds when you are reliant on people clicking ads.
It may sound easy to get people to click on your links, but in actuality it is very difficult.
Let us pretend that you've found something that you believe is entertaining and shareable. You put this something through Linkbucks and they give you a link to share it. You take this link and post it in all of your usual places. Unfortunately, you are not going to get a lot of clicks. The people that do follow your links are going to become annoyed at the fact that they were redirected to an ad, and they will not click on your links in the future.
In order to keep making money with this program, you will have to constantly post your links in new places. Looking for new places to generate traffic from can be very difficult.
Linkbucks' ads are also a little shady. Here is an example of the type of ad generated from a Linkbucks link: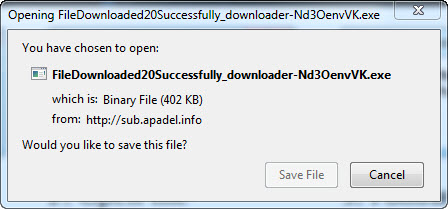 This is an incredibly suspicious thing to see when clicking on a link. You need to tread lightly when a site asks you to download an unsolicited file. I certainly would never click on a link from the person who directed me to this. Would you?
Pros and Cons
---
Pros:
Linkbucks provides a lot of information regarding what users are offered before they sign up.
It is completely FREE to use, and therefore I can not label it a scam.
Cons:
It has been in "beta" since 2005.
The ads are suspicious.
The Final Word…
---
Linkbucks is a completely free program, and because of that I can not label it a scam. You can actually make money from this site, but it takes a lot of time and effort to generate a very small amount of mula. Just like survey sites, they aren't stealing your money but they may be robbing you of your time.
If you are looking for a program that will give you a little extra scratch on the side, Linkbucks is a good bet! If, however, you are looking to make a full time income online, my recommendation is Affiliate Marketing.
Affiliate Marketing allows you to generate passive income. With Linkbucks and similar programs, you have to work constantly to make money. You have to work hard in Affiliate Marketing, don't get me wrong, but a single post will deliver you money indefinitely. You will literally be earning money in your sleep.
If you are interested in learning more about Affiliate Marketing:
Check Out My Review of Wealthy Affiliate!
Wealthy Affiliate is my #1 recommendation for an Affiliate Marketing education. They will provide you with a large network of people ready to help you with your future career. The information that they give you is updated daily, which is crucial in the Internet Marketing game. Most importantly, they are a try before you buy site! It is completely free to try Wealthy Affiliate. Read my full review by clicking the link above!
---
Do you have any questions or feedback regarding Linkbucks? Leave it in a comment below!