Name: Easy Internet Profit Shop
Price: $27
This Easy Internet Profit Shop review will help you to see through the scam. There are a lot of shady marketing practices taking place with this program. Don't be a sucker! Read this review so that you can make an informed decision before buying.
Program Overview
---
Honestly, this is less of a review than it is an exposé. I try to see the positives in all of the programs that I review. Unfortunately, there aren't many positives to be found with EIPS.
I hope you're ready for a list full of cons…
The Homepage
To start, the homepage is pretty bare. Normally a homepage is where a program like this would put it's sales pitch. This is a potential customers first interaction with the site. They should be given a summary of what the program has to offer them.
With EIPS, there isn't any information about the program on the homepage. They are just trying to sell you on the dream of making money online without telling you what you'll have to do to achieve it. You should never blindly purchase a product, get the facts first.
There was one thing I liked about the homepage. The fact that there were no false claims of riches, photoshopped checks, or cheesy pictures of some rich guy on a yacht (all marketing tactics used to get you to buy without performing your due diligence). Working online is still working, and scams will try to convince you that you won't have to do a lot of work.
There was this false claim on the homepage:
I'm sure you don't need me to tell you this, but if all you needed was "basic typing skills and Internet access," don't you think more people would be working from home? Granted, Internet marketing is EASY work, but it is A LOT of easy work. Catch my drift? You'll have to dedicate a large amount of time to learning the proper ways to perform the work.
The "Timer" and the "Discount"
When I clicked to buy the program, I was taken to a page with this on it: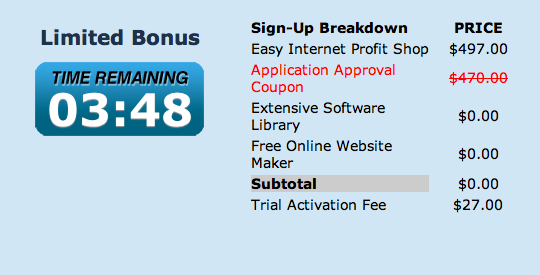 Notice that there is a $470 discount if you buy before the timer expires?
Golly! That's a great deal! 
WRONG! This is just another shady marketing tactic. The idea is, the potential customer will be so amazed by the savings, that they will act fast and buy the program before doing any research.
Trust me, I know the timer is fake. All you need to do, to restart the timer, is refresh the page. As far as the fake initial offer of $497 goes, well I'm sure even the owners of EIPS know their product isn't worth that much.
Which brings me to my next point…
The Mysterious Owner
The owner is listed as Ashton Carter. However, the domain is under the name Craig Hammer. I have no problem with somebody using a fake name for privacy reasons. What I find odd, is the fact that there was once a picture of "Ashton Carter" on the site that turned out to be somebody else entirely. This picture has since been removed (I'm guessing after the person, who was actually pictured, found out).
Things like this make me doubt the validity of the program. I need to trust something that I am buying into, and I can't trust EIPS.
The Complaints 
I found a lot of negative comments lobbied at EIPS. This surprised me, because this is a ClickBank product. ClickBank isn't a bad company, but they allow their members to upload their own products. This means that a lot of the times, the products are of pretty low quality.
Unfortunately, these products gain artificial demand because of the affiliates promoting them. So with EIPS, I was expecting to find a lot of fake reviews put out by affiliates trying to earn commission. What I actually found was a lot of complaints from people who couldn't get their money back (with ClickBank products you'll have to seek a refund through ClickBank itself).
The Final Word…
---

Easy Internet Profit Shop is a scam. I apologize that this review wasn't as in depth as I usually get. I just couldn't get over the sleazy marketing tactics. This is a pretty empty product that has built artificial demand because of the affiliates plugging it. There isn't any information given up front, and I would not recommend it to anybody.
The training and tools aren't worth the investment. It's clear that all they want is your personal information (email address, telephone number) so that they can bombard you with upsells and spam.
If you were hoping to start you Internet marketing career by utilizing the education within EIPS, do not be discouraged. There are some legitimate programs out there! You need to look for a program that is completely up front with you. Something that will allow you to "try before you buy." Something like this program.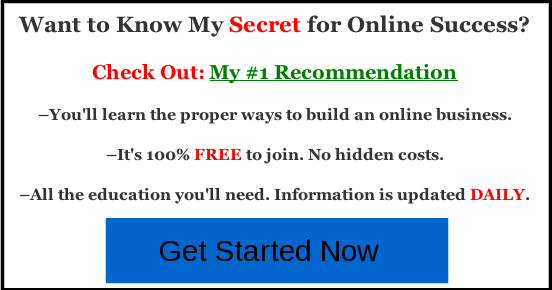 ---
Do you have any personal experience with Easy Internet Profit Shop? Any questions or feedback? Leave it in a comment below!