Name: Easy Blogging Success
Price: $4.95
Owners: Mustapha Yassine
Easy Blogging Success is an ebook by Mustapha Yassine. It is meant to teach the basics of blogging to beginners. Will you become successful by utilizing the information within this book? This Easy Blogging Success review will answer that question and more! Read on!
Program Overview
---

There are a lot of ebooks out there promising the same things as Easy Blogging Success. The majority of these digital information products are put out by members of Clickbank. Clickbank allows it's members to upload their own products. As a result, a lot of these ebooks are terrible.
Note: Not all Clickbank products are bad, but you really need to do your research before purchasing anything that is promoted through them.
Fortunately, Easy Blogging Success is a GOOD product!
Click Here to Learn how to Create and Market Your Own EBooks
What Can Easy Blogging Success Teach You?
EBS is only 32-pages long and it covers ALL of the basics of managing a blog. At such a short length, it's a given that a lot of this information has been summarized. Mustapha Yassine, the owner, could go into a lot more detail on most of the subjects covered. This makes it an ideal product for beginners only. A seasoned Internet marketer wouldn't get much out of this. In fact, a lot of this information is available for free online.
We pay for convenience, and having all of the information in one place (for only $4.95) certainly is convenient. 
There are a lot of things I liked about this product. For instance: The fact that Mustapha wasn't trying to hype people up and tell them that they would make millions of dollars overnight (Blogging is a job. Jobs require work. There is no such thing as "overnight success.") Perhaps the greatest thing about EBS, is the fact that there are ZERO upsells.
The first thing I notice about the products I review is the price. This is because I have to purchase the products in order to give them a thorough and fair review. When I see products as cheap as this one, I automatically assume that there is going to be at least on upsell to a more expensive product or program. Since there are no upsells to be found, you know that Mustapha didn't have any hidden motives when he was writing this book.
What's the Difference Between a Product and a Program?
The worst thing about Easy Blogging Success, is the fact that it is a product and not a program. It's just a book. For the time being, it contains valuable information, but the Internet is a perpetually shifting environment. What it takes to succeed today may be entirely different than what it takes to succeed tomorrow. Once you're finished with the EBS book, that's it. You won't learn anymore from it, you won't stay up to date on what it takes to succeed online, and you won't be able to ask any questions if you need help.
A program (an educational community) allows you to stay ahead of the information curve, continue learning, and ask questions of fellow bloggers or entrepreneurs. I always recommend programs over products for these reasons.
I have personally reviewed a lot of programs that were scams. They fell short of legitimate for various reasons, but the number one factor in determining a good program from a bad one is the presence of a community. Networking within a positive community is a huge help when you are trying to succeed online. It allows you to ask questions, as they arise, and get immediate answers from fellow members. You aren't going to find that within the pages of a book.
Programs are better than products, it's as simple as that. The one drawback for most people is having to pay a monthly subscription fee for a program, as opposed to a one time fee for a product.
Pros and Cons
---
Pros:
It is very beginner friendly.
There are no upsells.
It is realistic. By that I mean it doesn't try to sell you on "overnight success." It acknowledges that blogging for profit is difficult and can take time (although ANYBODY can do it).
At a one time fee of $4.95, it is cheap and well worth the money!
Cons:
It's a product and not a program.
It is very concise and could afford to go into much more detail.
Most of the information can be found for free.
The Final Word…
---

Easy Blogging Success is a legitimate product. It's not the most in-depth product, and you can find most of this information for free, but at $4.95 (and with no upsells), I can hardly call it a scam. If you are a complete beginner to Internet Marketing, go ahead and check out Easy Blogging Success. It's a great starting point!
But wait, there's more….
Because this is a product and not a program, you will need to personally stay up to date on all that it takes to succeed online. The search engines are constantly evolving, this means we need to stay informed on what it takes to continuously rank. Ranking on the SERPs (Search Engine Result Pages) is 90% of what's required to succeed online.
How can you stay informed?
Easy! Join an educational community. Within a community, you can REMAIN informed on all things Internet Marketing. This is crucial. You can also network with fellow entrepreneurs. This means you can ask questions as they arise, and get answers from people who have struggled with the same things. I've reviewed many of these programs but nothing compares to my #1 recommendation. This community will teach you everything that you need to know, it will consistently provide you with the most up to date information, and it comes with the best community that I've seen in any program.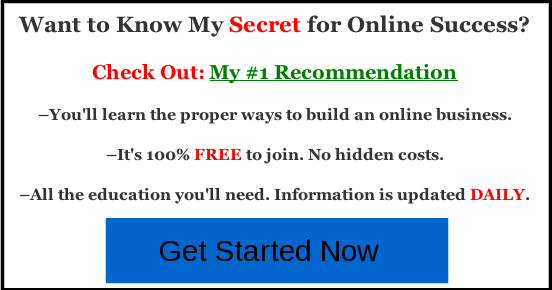 ---
Have you checked out Easy Blogging Success? What did you think of the product? I welcome all comments, or questions you may have, below!