Name: Commissions Monster
Website: http://www.commissionsmonster.com
Price: $7, (Upsells: $17, $14.95, $27)
Owners: Edmund Loh, Venkata, Naidy Phoon
Commissions Monster is a PDF guide that is designed to teach you how to cash in on product launches. For experienced Internet marketers, this is hardly ground-breaking information. Will it work for beginners? This Commissions Monster review answers that question and much more! Read on!
Analyzing the Sales-Page – Beware the Hype!
---

The Commissions Monster program has a very "in-depth" (sarcastic quotation marks) sales-page. I thought this would be a good opportunity to highlight seedy marketing tactics that are often implemented by gurus.
Note: When you enter into the realm of business, you have to expect marketing techniques of all kinds. There are right and wrong ways to market your products or services. Experienced Internet marketers are fully aware of the fact that the best way to succeed online is to genuinely help people. You identify a problem, find a solution for that problem, and present this solution to your traffic. This builds trust with your audience, which leads to more conversions down the road. The marketing techniques I am about to highlight are simply ways to take advantage of beginners, not help them.
Lets talk about hype….
Gurus love to hype up their products. This hype is generally untruthful. I call this the "wool over the eyes technique." You tell someone that they can make a 4 digit sum in a day, and you don't tell them how they will be doing it. Of course people want to make this kind of money, so they forget to ask "how?" and they buy into a product without performing their due diligence. The Commissions Monster sales-page is chalk full of this type of hype.
The thing that bothers me most about this sales-page is the fact that they are marketing the product towards beginners, but the strategies they teach (I will elaborate on this later in the review) are geared more towards experienced Internet marketers.
Commissions Monster claim that you will not need a website, a large email list, or any experience to find success with their system.
I beg to differ….
They don't tell you that to succeed with this system you will need to invest money into an auto-responder (for building an email list), hosting (for a website), and you will need more experience with Internet marketing than they let on. I believe the reason they tell you that you won't need any experience is the fact that they have three upsells for products that will teach you more.
Another seedy marketing tactic. They tell you they have all that you'll need, and then they present you with the right information at an additional cost to you. The infamous upsell. 
The product only costs $7. This is a great price, considering the training is actually pretty good! However, you'll have no use for this training without establishing some knowledge in other areas (that's how they get you).
Enter the Upsells:
Upsell #1: The first upsell will cost you $15. It is more information on making money faster.
Upsell #2: This upsell will run you an additional $17. It is meant to teach you ways to acquire passive income machines. When the word "machines" is used with the word "acquire," I assume there is automation involved. Automation is dangerous because often times it results in duplicate content that can hurt your site's health. Although in this case, I'm not positive (I didn't purchase these upsells).
Upsell #3: The last upsell costs $27. Let me cut to the chase: Avoid upsells. If a product owner doesn't include everything in the initial price, than they are clearly more interested in making money than educating their customers.
This brings me to my next point….
This product only costs $7. At the bottom of the sales-page they try to tell you that it is worth more but if you act quickly you can still get it at the sale price.
This is a digital information product. It cost them nothing, but time, to make. They can sell it at whatever price point they choose and still make a profit. Selling it for less (with upsells inside) will result in more conversions for them. This product is pretty decent, and they could sell it for more than $7, but don't believe them when they tell you that they are going to up the price. This is just another seedy tactic to get you to buy without performing your research.
At the end of this typical WSO (Warrior Special Offer) sales-page, you are wondering what the product can actually teach you. Sure they promise you riches, but they don't tell you how you are going to get to your personal pot of gold.
It's time to cross the rainbow….
Program Overview – What's Behind the Sales-Page?
---
As I've hinted at above, Commissions Monster is actually a decent product.
The sales-page just irritated me, so I had to get all of that off my chest.
The product is a 47-page ebook that covers multiple topics. Including:
Offering bonuses to your list or readers. This will result in a higher conversion rate, which means more money for you.
Promoting digital info products. These are the type of products you'll find on Clickbank. Products like educational guides or ebooks. These products cost nothing to make, which means the product owners are willing to pay higher commissions to the affiliates (learn more about affiliate marketing here) promoting their products.
Click Here to Learn how to Create and Market Your Own EBook!
Launch jacking. It can be difficult to promote digital info products. You can make it easier by taking advantage of the work that others have put in. Launch jacking is the process of creating reviews of products immediately after they've launched. This will result in your post being better ranked in the SERPs (Search Engine Result Pages). As the product gains steam, and is relentlessly promoted by others, you can sit back and collect the money off of their work. You basically take advantage of the promotion efforts of others. Shady, but if you're in to that, it can work.
All of this information is put together in a very easy to follow way. Seriously, I really enjoyed this guide. However, there is something that confuses me.
The Most Confusing Thing About Commissions Monster:
For the life of me, I cannot figure out who I would recommend this product to. Beginners would be too confused by the information, but more experienced Internet marketers would find all of this information too obvious. They're not breaking the mold here. None of this is new information and it is all pretty self-explanatory.
I suppose if you are looking to sharpen your existing knowledge, I would recommend Commissions Monster to you. I would not recommend it for beginners.
The Problem with Commissions Monster' Strategy:
The biggest struggle that comes with promoting digital info products, is the fact that they disappear nearly as quickly as they are created. They are created for free, by regular people, and this means that often times the products are terrible. Terrible products do not last long.
The MMO (Make Money Online) space is very competitive. Even the good products don't last long, because they are pushed out by newer products.
How can you make money promoting products with a short shelf-life?
Essentially, you will have to continuously spam your email list. In the case of this system, quantity trumps quality. The more products you promote the more you will make. These are "villainous" marketing techniques. Don't be part of the spam problem, be a part of the solution.
The Final Word…
---

I bet you weren't expecting me to give this program a decent rating! The truth is Commissions Monster is legitimate. All of this information is sound, accurate, and presented in an easy to follow way. However, you'd have to be a complete shark to successfully implement some of these strategies.
I've said it once, and I'll say it many more times: The best way to make money through affiliate marketing, is to be honest with your readers. Don't spam them, instead help them. Your help and honesty will go a lot further towards converting them into customers. The best part is, when you are honest and helpful, you will have RETURN customers. You would never get return customers by spamming people.
For all of the beginners out there, looking to learn how to make money online, I only have one recommendation. This is an online community that will teach you EVERYTHING you need to know about Internet marketing. It is a completely upfront and honest site that allows you to try before you buy.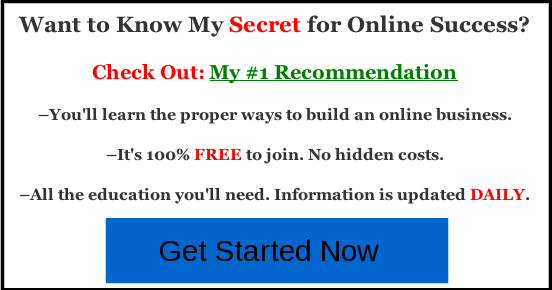 ---
Do you have any personal experience with Commissions Monster? Any questions or feedback? Leave it in a comment below! I love hearing from you guys!