Name: Ultimate Green Profits or Ultimate Home Profits
Website: http://www.ultimategreenprofits.com/
Price: $97 reduced to $47 + upsells
Owners: Michelle Robinson
I was very confused when I stumbled upon this program. The reason being, I have already written a review for a program called Ultimate Home Profits (The title of this program, although the url suggests differently).
To keep these programs separate, I am going to refer to this one as "Ultimate Green Profits," as this is the name in the url. 
Ironically enough, both of the "Ultimate Home Profits" programs that I've seen have been duplicate scam sites. Whether or not they're related, I was unable to determine.
What is a duplicate scam?
This Ultimate Green Profits review answers that question and more! Read on!
To Begin With…
---
I've seen a lot of these duplicate scams since I've been reviewing MMOs (Make Money Online programs). They are built with the intent to scam people out of their money.
They utilize deceitful marketing tactics like telling people they can make thousands in no time with very little work.
This is simply not true. You want to make money online (or with a traditional brick and mortar), you are going to have to WORK for it. Businesses take time to build. 
They develop FAKE news sites to promote the program. These "news" sites look legitimate and are usually depicting a story spun to pull on the heart strings of the readers. Something like: "Single mom making thousands online with the help of this program!"
They brand-jack legitimate news sites by placing official logos at the top of their website. They get away with this because these legitimate news sites have featured stories on Internet Marketing, but they haven't actually featured the scam sites themselves.

Their whole goal is to get you on the phone with a high pressure salesperson who will attempt to upsell you into oblivion.

They claim that this is a coaching call, but the truth is this is their opportunity to squeeze more money out of you.
I've read horror stories of people losing thousands of dollars to similar scams. 
Once it is revealed that one of these "programs" is a scam, the people behind it simply change the name, and the scam keeps going. The name change is because people like me review these programs and reveal them to be scams. When a smart consumer performs their due diligence, they will search for reviews and never buy the program after learning the truth. The constant name changes are in order to stay ahead of the negative (yet honest) reviews.
A duplicate scam is best summed up with pictures:
The similarities do not end with the graphics. The majority of the content is identical (and poor quality). The "owner's" name is usually Michelle Robinson or Cami White. It doesn't actually matter what name the program's "creator" goes by, because she/he is not real. The story is always the same and the pictures are always from stock photography sites.
What's the number one thing that all of these programs have in common?
They are all SCAMS!
Program Overview
---
Upon registering with this program you are immediately greeted with a call to action:
At the top of this page is the navigation bar:
I wanted to briefly discuss some of these tabs with you.
The Web Traffic tab contains twelve videos:
Getting Started – A general introduction to the "course."
The Money is in the List – All about building email lists.
Instant Sales Force – This video is regarding building a team of fellow Internet marketers.
Time to Socialize – Web 2.0 or social media marketing.
Video Marketing – This will teach you how to build buzz with videos, utilizing places like Youtube to bring traffic to your site.
Article Marketing
Exchange Links – This can be a useful way to drive traffic, but only if you do it correctly which isn't demonstrated in the video.
Blogs, Forums, and Google Groups
Press Release
E-Zine Advertising
PPC Advertising – PPC stands for Pay Per Click. This is the process of buying ad space to bring traffic to your site. I would NEVER recommend this for a beginner because you really need to know what you are doing before you commit to paying for an ad.
Offline Advertising
While the majority of these videos feature legitimate ways of driving traffic to your website, none of them are presented in an easy to follow way. All of these videos are basically just an overview of the particular process. They aren't "taught" to you so much as thrown at you. A beginner won't understand this information as it is presented.
The Affiliate tab is another 5 videos that cover affiliate marketing. They still don't provide a detailed description, but rather a broad explanation.
The Master List tab is simply a list of the top 10 best selling products on Clickbank. This list can be found for free by visiting Clickbank. Just because these are the top ten best selling products/services, doesn't mean that you are guaranteed to sell/promote them to others. You would stand a good chance of successfully promoting them, if you were provided with better training. Unfortunately, if you were relying on Ultimate Green Profits for this training, you are out of luck.
You can find the majority of this information for FREE elsewhere. 
The Final Word…
---

Ultimate Green Profits is a scam. It was easy for me to spot because I've seen this identical scam with a different name. While it does provide some basic information that is relevant to starting a career in Internet Marketing, the upsells and relentless spamming completely eliminate any potential it may have had. Avoid it and scams like it at all costs. This particular scam is just designed to look legitimate enough to get you on the phone with a high pressure salesperson.
Where can you go from here?
It is really discouraging trying to find legitimate programs in a world of scams (Trust me, I've been there), but don't give up hope. The number one reason people fail online, is because they give up before they have even begun.
I was able to find a legitimate program that taught me everything I know about this industry, and it can do the same for you. This program will allow you to sign-up for FREE without putting a credit card down. You can try it before you buy it. Just read my review, try it out for free, and see if it's the right fit! If it's not something that interests you, you can move along and keep searching for the right program for YOU!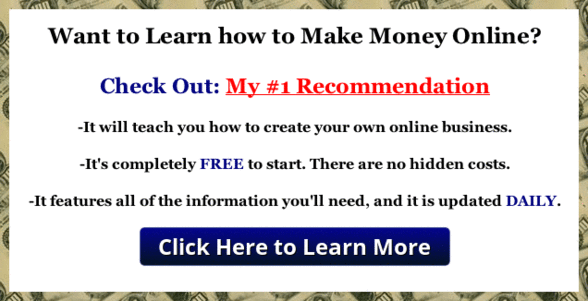 ---
Do you have any personal experience with Ultimate Green Profits? Leave it in a comment below and I will add it to the review!