Empower Network Review – Does it Live up to the Hype?
Name: Empower Network
Website: http://www.empowernetwork.com
Price: $25 per month for basic, $19 per month for e-wallet, $100 per month for inner circle, $500 for Costa Rica Intensive, $1,000 for 15k Formula, $3,500 for Master's Retreat
Owners: David Sharpe, David Wood
Empower Network is a MLM scheme that has built artificial demand thanks to it's affiliates relentlessly pushing it. In this Empower Network review I will tell you exactly why I think this program is a scam. Read the full review before you make up your mind about buying into it.
Program Overview
---
Empower Network utilizes a multilevel marketing sales model, but they have aren't selling any products. All they are promoting is themselves. You buy into the program to learn how to promote the program. It's a pyramid scheme!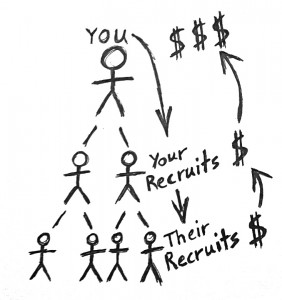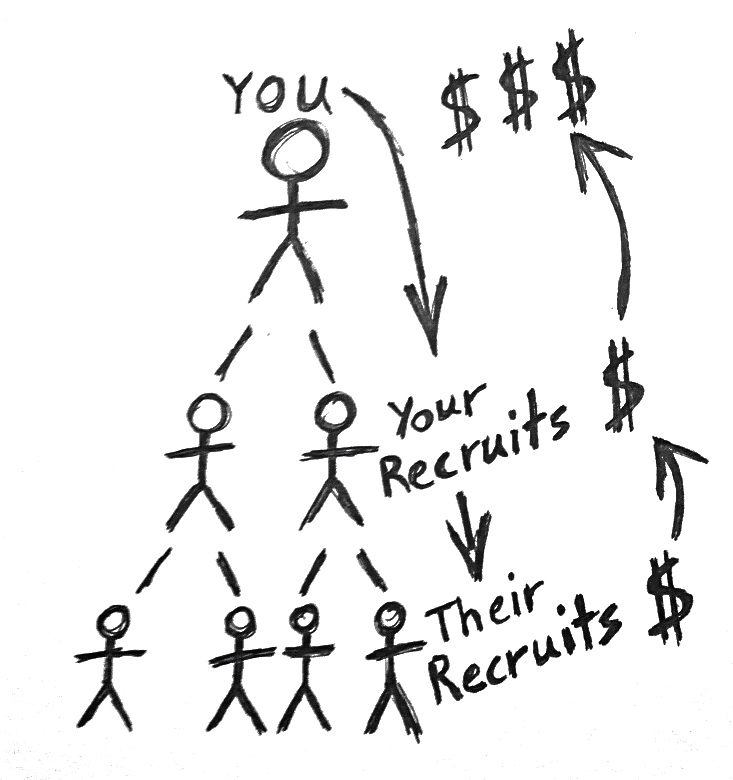 Here is how it works. You recruit people into the program, and earn commission. The people that you recruit then go on to recruit more people and you will receive some of this commission as well. Basically, you are building your own pyramid. Only if you can get enough recruits, who then go on to recruit a lot of people themselves. This is a lot easier said than done.
Empower Network claims that you will earn 100% commissions. This isn't true. The commissions for the 2nd, 4th, 6th, and every 5th person you recruit after that will go to the person who recruited you. So you will be doing a lot of work for people in your upline. The only people that truly benefit in a pyramid scheme are the people at the top. Guess who is sitting pretty at the tippy top of this pyramid…. The owners, David Wood and David Sharpe. They're cashing in on your hard work.
Who is This Program Intended for?
This program will only produce results for people who work incredibly hard at building their downlines. This means sleazy unethical people. I say this because these people aren't actually selling anything. They are selling the right to sell what they're selling.
Not a lot of people can commit to being so sleazy. If you were selling a proper Affiliate Marketing education, it would be easy. Legitimate programs sell themselves. Empower Network requires ruthless tactics to sell.
99% of the people that buy into this program aren't successful. They may make money, but because it costs so much for the membership, they won't make a profit.
Training and Tools:
Each additional layer of training provided by EN has an upsell. The training can be good, depending on who you sign up through. The person directly above you in the pyramid may offer a lot of help, because he/she will reap the benefits of your success. The actual training within Empower isn't very good and is completely centered on promoting EN to others.
There is a lot of pressure to upgrade within the system. Your sponsors will try to bully you into buying more by calling you a "wussy" and other mean-spirited names. Why such pressure? Because if you don't purchase everything within EN, you will not be making the people above you any real money. If you don't buy, you can expect to be ignored by all of the people in your upline.
Pricing (After Upsells):
Blog Beast ($25 per month) – This is the basic price. Upon joining you will receive your own blog. However, Google now recognizes these blogs as spam and as a result, they do not rank in the SERPS. In fact, platforms like Facebook and Youtube have actually banned EN content. Here is the message I got when I tried to post a link on Facebook: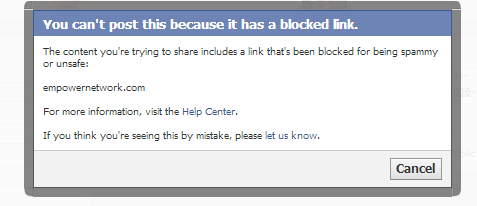 These blogs are tied to the EmpowerNetwork.com domain. This means that you do not own any of the content that you create on them. So you are basically paying $25 a month to create content that belongs to someone else. Doesn't sound very appealing.
You can build your own WordPress blog for free and you can promote whatever you want to as opposed to just selling Empower Network to others.
e-wallet ($19.99 per month) – This is Empower Network's own version of Paypal. You have to pay for this in order to get paid. This is absolutely ridiculous. Paypal is a free service but it won't team up with EN because their activities are borderline illegal.
Inner Circle ($100 per month) – If you buy into this you will receive audio training and be paid higher commissions. You're not buying anything, you are buying the right to sell the same thing for more money.
Costa Rica Intensive ($500) – Additional video training on promoting Empower Network.
$15k Formula ($1,000) – This is a nine-part video series that will teach you how to market your blog via social media sites. However, as I mentioned above, Empower Network is banned from sites like Facebook and Youtube. RED FLAG!
Master's Retreat ($3,500) – This is a series of 41 motivational videos. Most of this information has nothing to do with expanding your blog. They're motivational videos! I sure hope you never feel motivated to fork over this kind of money on a blatant scam.
So, there you have it. Over $5,000 on useless information. You will be relentlessly bullied into going "all in" and you won't be better off for having done so.
Pros and Cons
---
Pros:
You will receive your own blog.
Cons:
There is no free trial available.
It's a pyramid scheme.
You will not have direct access to the owners.
There is no clear explanation of the work that you will perform.
There are A LOT of complaints about the program online.
You will have to scam others into joining.
It'll cost you $20 a month in order to get paid.
There are a ton of upsells.
In order to succeed, you will have to spend a minimum of $140 per month.
The Final Word…
---

Empower Network is a scam. It's not just any scam, it is the sleaziest scam that I've ever reviewed. They will try to bully you into spending $5,000 and you can get all of this information elsewhere for free. The only people that benefit from this type of pyramid scheme are the people at the very top. Most people will not make money with this program. Stay away from Empower Network!
If you are tired of sleazy scams like this and you would like to learn how to make real money online…
Read About My #1 Recommended Program!
---
Do you have any questions or comments pertaining to Empower Network? Leave it in a comment below!