Name: Take Surveys for Cash
Website: http://www.takesurveysforcash.com
Owners: Jason White
Price: $37 which is reduced to $12
Take Surveys for Cash is a survey site that charges it's members. I've never really heard of a survey site doing this. What makes this product so good that it has to charge? This Take Surveys for Cash review will answer that question! Read on!
Program Overview
---
Take Surveys for Cash is a really popular Clickbank product, but for the life of me, I can't figure out why. I understand the appeal of survey sites. It's easy work that can get you a couple extra bucks per survey. So for those people that are just looking for a few extra dollars a month, survey sites are great!
The surveys themselves are easy and self-explanatory, but most people don't realize how time consuming they can actually be. Before you can even take a paid survey you will have to qualify for it.
How do you qualify for a survey?
You qualify for a survey by… taking a survey! That's right! There is usually a qualifying survey in place that takes as much time to complete as the actual survey. You will not qualify for every survey, which means you will be wasting time TRYING to qualify.
Take Surveys for Cash claims that you can make $3,500 a month from surveys alone. This is simply not true. You will never make that much money taking surveys. Especially given the fact that they're not always available (there is a whole lot of competition out there).
How is Take Surveys for Cash Different from other Survey Sites?
The short answer: THE PRICE. Take Surveys for Cash is exactly like the other survey sites. It is simply a gateway site that will point you to REAL survey sites. The survey sites it points you towards are completely free to use.
So why does Take Surveys for Cash charge $37?
Because it is a scam. Think about it. You would be paying for information that is available to you for FREE. This is absolutely despicable.
If you elect to pass on paying $37 and attempt to exit from the window, you will be greeted by this message:
After this pop-up hits the scene, the price is reduced from $37 to $12. That is still $12 too much, because all of this information can be found for free.
The fact that there is a price reduction when you try to exit should tell you that the program is a scam. They know they aren't worth what they are trying to charge you. Don't give them any of your money!
What Does $37 Buy You?
Allow me to elaborate on these 6 steps:
Step 1 – Simply an introduction to the system.
Step 2 – This is an upsell for a binary options program called Verified Traders. You'll have to give a big ol' chunk of change for this. I'm sure Jason White will get that money! You should avoid upsells in general. They usually indicate a scam.
Step 3 – This one is completely self-explanatory. You take surveys and you get some money.
Step 4 – They suggest you register with as many survey companies as possible. Well, duh! They do suggest you get a program that will automatically fill-in your registration information.
Step 5 – This is just a list of the surveys that are available for your area. Again, all of these surveys can be found in other places for FREE.
Step 6 – A couple of ebooks that will teach you other ways to make money online. Now I like this idea. It would justify paying for the program. Unfortunately, a lot of the information here is outdated. Plus, if you are new to making money online, you won't be able to utilize this information correctly.
The Final Word…
---

Take Surveys for Cash is a blatant scam. They charge you for things that you can find for free elsewhere. There are plenty of free survey sites that will provide you with the same exact surveys, so don't waste your time with this one.
Speaking of wasting time…
For me, survey sites are a complete waste of time. They only result in pocket change. If all you're looking for is a little bit of extra money on the side (and I do mean a little bit…), than taking surveys is an acceptable way of going about this.
However, if you are looking for a real full-time income stream, I recommend looking into affiliate marketing. Affiliate marketing is the easiest way to earn money online for beginners. You could dedicate the same amount of time, that it takes to complete surveys, to building a website (your own online business). Check out my #1 recommendation for an affiliate marketing education.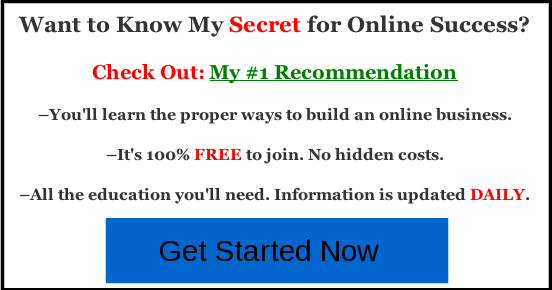 ---
Do you have any personal experience with Take Surveys for Cash? Any questions or feedback? Leave it in a comment below! I'd love to hear from you!