Name: Jobrize
Website: http://www.jobrize.com/ 
Price: Free
Jobrize is the latest in a string of duplicate scam sites. I've seen it promoted heavily via social media, but the promoters do not realize that their efforts are in vain. I'm going to get right to the punch. Jobrize is a SCAM. The following Jobrize review explains my stance. Read on!
To Begin With…
---
I knew this was a scam before I even attempted to join the program. The reason being is the fact that I've seen this scam before. You see, Jobrize is a duplicate scam site.
What is a Duplicate Scam Site?
While it is a self-explanatory term I still like to explain what it means for my readers that may not know. Duplicate scam sites are the result of lazy scam artist's efforts.
First, a scammer will create one deceitful funnel (website). They send traffic to it and collect money off of unsuspecting consumers. As that scam ages, people will begin figuring out that it is fraudulent and they will spread the word (in reviews like this one for example). Naturally, the traffic will begin to slow down and the scammer is left with a "funnel" that is no longer producing money.
What is a lazy scam artist to do?
Instead of building an entirely new funnel (or god forbid, a legitimate opportunity) the scam artist will simply copy the first scam entirely. The only difference? They change the name of the "new" scam.
It's much easier to explain with pictures. At the top of this review is a screen shot from the Jobrize website. Below is a picture of a "program" called The Revenue Job: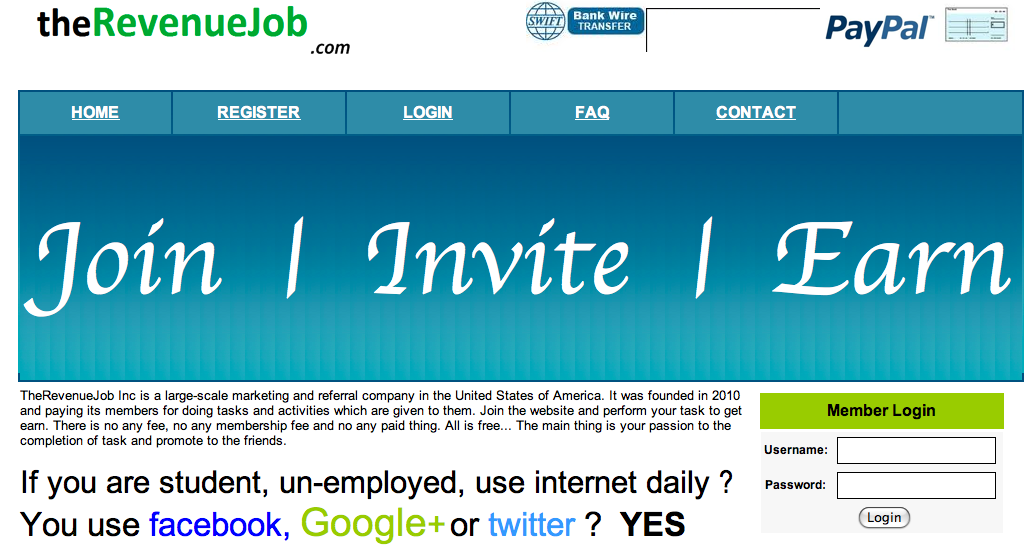 As you can see, these two programs are identical except for the name. Jobrize simply took the place of "The Revenue Job" once the latter stopped producing the results that the scam artist, behind the two programs, wanted.
I already knew that "The Revenue Job" was a scam. Since it was identical to Jobrize, I was able to spot the scam before I had begun investigating. That is the only silver lining to these duplicate scam sites.
Program Overview
---

The truth is, there isn't a program at Jobrize. They claim that you can make money through them by link-posting.
Link-posting was once a great way to make money online. Traffic is the most valuable asset that a website has, so companies would pay people to post links for them to bring in more traffic. However, Google updated their algorithm which made the process of OVER link-posting harmful to one's site. The industry, of link-posting, has nearly vanished since this update.
Jobrize provides you with an affiliate link that will lead people back to their website. They do not provide training on how to promote your own link. This is why you see Jobrize promoted heavily via social media sites. The people promoting Jobrize do not realize that their link-posting is in vain, they will never get paid.
The Payout Matrix
Jobrize operates on a 3-tier payout matrix. This means you will receive commission for each person you successfully signup, each person THEY signup, and each person that your referrals signup.
Notice the shape of the payout matrix.
Does it look like a pyramid?
This MLM (Multi Level Marketing) structure appears to be a pyramid scheme. The truth is, it is possible for the downline to make more than the upline, so I won't call it a pyramid scheme straight up. Be aware that promoting a pyramid scheme is illegal. In this case it doesn't matter because you won't get paid.
How can you get paid commission for referring people to a FREE program?
You can't.
There are complaints all over the Internet from people that have not been able to cash out their earnings from Jobrize.

Question: Why would they go through all of the trouble of creating a fake program to get people signed up?
Answer: Because they are collecting your signup information (and the registration information of everyone you refer) and selling it to other companies/people. These companies/people will bombard your email with spam offers for other MMO programs.
Other Security Issues
Do you need more proof that Jobrize shouldn't be trusted?
Well, if you are using Google Chrome, you will be greeted by this message when you navigate to the site:
The Final Word…
---

Jobrize is a complete scam. There is nothing to the "program." The people behind this work very hard at promoting it and getting members to promote it. However, they have no intention of teaching you how to make money online. They are simply after your information. Avoid this program. 
What now?
It can be very discouraging to see all of the scams on the Internet. However, there are some legitimate opportunities out there. If you are interested in learning how to make money online, I recommend that you read this review. It's for the program that taught me everything I know about making money online. It is completely free to signup (no credit card required), it is safe/secure, and it will teach you how to do what I do (affiliate marketing).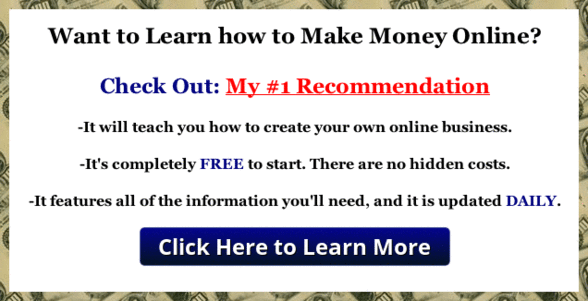 ---
Do you have any personal experience with Jobrize? Any questions or feedback? Leave it in a comment below and I will get back to you within 24 hours!