Ingreso Cybernetico – Trusted or Busted?
Name: Ingreso Cybernetico
Website: http://www.ingresocybernetico.com
Price: $25 per month, around $5,000 in upsells
Owners: Dwayne M. Golden
This Ingreso Cybernetico review will detail the pros and cons of the program. This is another MLM (Multi-Level Marketing) company. I'm not an MLM hater, but when an MLM company puts 90% of it's emphasis on recruitment, it becomes a pyramid scheme. I am a pyramid scheme hater. Does Ingreso Cybernetico fare well? Read on!
Program Overview
---
Ingreso Cybernetico was founded by Dwayne M. Golden as an online software company that served Latin American Companies. Since it's creation, it has expanded worldwide. You may have seen it promoted around various social media sites.
It is getting a lot of attention right now, but keep in mind that it is being promoted by it's affiliates that collect a commission when you buy into it. Essentially, artificial demand has been created because of all of the affiliates spamming it out.
An MLM structure and even artificial demand are not bad things, if the company has a legitimate product to sell. If the product they are selling is helping people, how could it be a bad thing? Unfortunately, a lot of these MLM companies do not have an actual product. They are simply selling the right to promote the company further. This is how pyramid schemes are born. So, the big question….
Is Ingreso Cybernetico a Pyramid Scheme?
Ingreso Cybernetico actually has a product, they are not just selling the right to sell. However, their products and program aren't of the best quality. Their payout structure and the fact that they put the majority of their emphasis on recruitment, instead of improving their tools, makes them a pyramid scheme.
Paying affiliates to advertise for you is smart and the majority of the programs that I review do just that. The fact is, such a large emphasis on customer acquisition is indicative of an inferior program. A good program sells itself and only utilizes affiliates as a gateway. At Ingreso Cybernetico, you will not be trained to build your own business, you will be trained to sell Ingreso Cybernetico to others. The lack of proper training for ANY niche, is why I can't ethically recommend this program.
Having said that, you do not have to be affiliated with the company to utilize the tools. If you are dead set on Ingreso Cybernetico, I'd suggest using the tools but not bothering with affiliating yourself with them. This will save you a lot of money in the long run, but more on that later.
Tools 
The affiliates of the company put a hard sell on the tools. This is because they know that no one would sign up under them, just for the right to sell the site and make them more money. These affiliates aren't lying! There are some important tools here. All of these tools can help with your online business. However, there are some issues with them and without proper training you will not know how to best put them to use.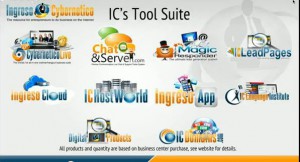 IC Chat and Serve
IC Magic Responder
IC Live
IC Host World
IC Affiliate Partnership Program
IC Lead Pages
IC Language Institute
Ingreso Apps
Ingreso Cloud
How do You get Paid? 
This is where the program begins to get a little sketchy. As an affiliate, you are paid every time you make six sales. You are paid $125 when two of your referrals make two of their own sales. They call this  filling your "matrix." The reason they call it a matrix is because the word "pyramid" has negative connotations (and rightly so!)
The good thing about this method, is the fact that the person that recruits you is likely going to be very helpful. This is because your recruiter will only benefit from you if you can make sales. So you may receive some training, but it isn't really coming from Ingreso Cybernetico.
The bad thing about this system is the fact that you have to keep repeating it to make money. The beauty of Affiliate Marketing, at least for me, is the fact that once I have a site filled with content it generates passive income indefinitely (as long as I keep the site updated.) Working in Internet Marketing is all about making money while you sleep. With Ingreso Cybernetico you will have to repeat the process of selling it to two people and then training them to sell it, over and over again. It will become more like a grueling regular job. Not nearly as fun as Internet Marketing can be.
Price (Upsells Ahead!)
Then there are the upsells. You have to pay to the level that you want to make. It's $25 a month (maintenance fee) and then $50 (one time payment) for you to make $125 per completed matrix.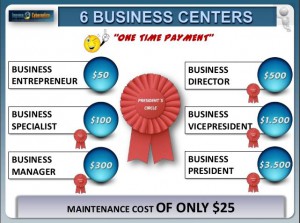 In order to make the maximum amount, you will have to buy into the "Business President" level which costs $3,500. If you are just basic "Entrepreneur" level and someone signs up through you for "President" level, you will not collect commission because you haven't bought into that level.
So you'll be looking at costly upsells to make the most money possible. Upsells are a BAD sign.
By no means am I suggesting that nobody makes money with this system. It can definitely be done. They are selling products, not just the right to sell. You will just have to work consistently to keep making money, which kind of defeats the purpose of Internet Marketing (In my opinion.)
Pros and Cons
---
Pros:
As opposed to most pyramid schemes, there actually are products available to users. However, you can find better versions of all of these products in other places.
This site is also available in Spanish and Portuguese. This is really cool. Some other programs should take note!
Cons: 
It's a pyramid scheme.
The products aren't the best.
Not a large emphasis on education. The only reason any of these programs exist is to educate people on starting an online marketing career. Without education in place, people are just wasting their money.
Upsells.
The Final Word…
---

Ingreso Cybernetico isn't the worst program I've ever seen. There are things I liked and things I hated about it. The fact that the site is geared towards teaching it's members to bring in more members isn't right. These programs are meant to educate people on Internet Marketing as a whole, so that people can create a website on any subject they want and learn to monetize it. I can not ethically promote Ingreso Cybernetico because it cares more about acquisition than customer satisfaction.
For a program that will teach you everything you need to know about Internet Marketing, so that you can create a website in any niche you desire….
Check Out My #1 Recommended Program!
---
Do you have any questions or feedback regarding Ingreso Cybernetico? Leave it in a comment below!