How to Make Money Online as a Voice Over Artist!
This article will cover the various ways of breaking into voice over work. Voice over acting is freelancing. As such, you will need to put in a lot of ground work to build out your experience/resume in order to be successful. In the digital age there are numerous ways of going about this, but first…
What Does a Voice Over Artist do?
---
Everyday you are bombarded by the work of voice over actors. The truth is, most people do not orate well. As a result of this, people are willing to hire voice over actors to narrate books on tape, radio announcements, commercials, and everything in between.
TV and Radio media groups will outsource their voice over work to free-agents. You will be sourced for work like: public announcements, trailers, cartoons, documentaries, and commercials. Non-broadcast business will hire you to narrate training videos, phone recordings, and the occasional podcast.
With the big gaming/app boom, programmers are working closely with voice over actors in creating characters voices.
Essentially, there is no shortage of work if you are fortunate enough to have a well polished voice.
What Equipment Will You Need?
---
If you want to be successful in the voice over field, you can't settle for the equipment that you already have. In fact, if you begin to generate income, you should reinvest this money back into equipment. Clients, both online and in the real world, are looking for professional quality recordings.
You don't need a private home studio to create professional recordings, but you do need a soundproof room and a decent microphone. I also encourage you to download free audio recording and editing software, like Audacity.
As your portfolio grows, you will want to improve on your recording setup. By doing this you will generate more leads and your investment will pay for itself.
How Much do Voice Over Artists Make?
---
This is freelance work. The money you make is entirely dependent on the work that you are willing to put in. It is up to each voice actor to determine their own rate. Having said that, if you are a beginner, you are going to want to charge less than most people. As you build up your portfolio, you can raise your going rate.
Even someone new to the industry can make up to $300 for a 5-minute recording. Especially if the work is specialized. So if you have any technical expertise, advertise your background from the start.
How can you get your voice heard in this industry? There are tons of sites that will help you find jobs, advertise, and set your own rates.
Voice123
This site will allow you to deal with your perspective clients directly. You'll setup your auditions and negotiate your own rates. Some big name clients utilize the talent at Voice123. Clients like MTV, Zynga, and Universal Studios.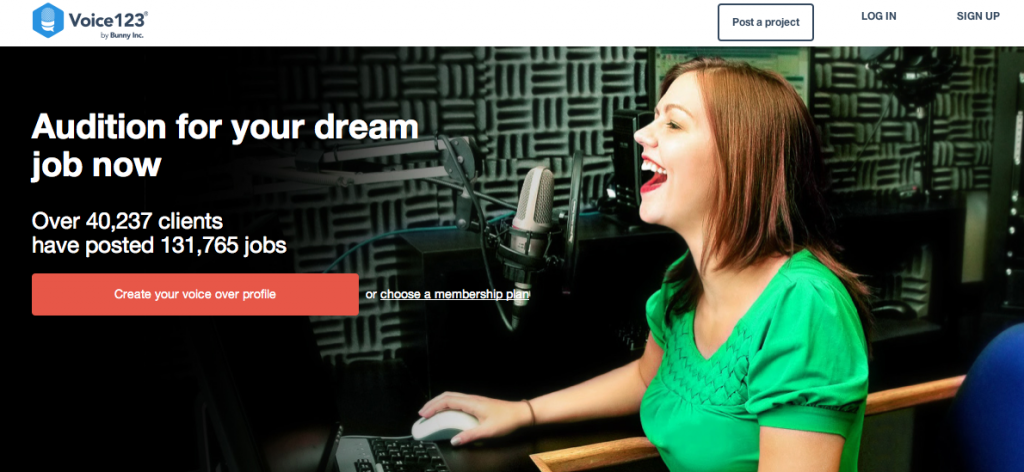 Voice 123 charges no fees or commissions on jobs. However, they recommend that you sign up for premium membership at $395 per year. The free member profiles are listed below the premium members in the voice talent directory. I do not recommend this site for beginners, because of that reason. When your income is reliant on receiving direct invitations for work, being listed below premium members will have a negative impact. Premium members get invitations to audition through the site, while free members will not be notified.
Voice123 uses a casting program called SmartCast. This software matches voice talent with potential clients based on work/audition history. This improves the quality of the auditions received and cuts down on bidding wars between voice actors. You will be invited to casting calls of the types of jobs that you regularly audition for.
Voicebunny
Voicebunny was created by a couple of Voice123 cofounders. Voicebunny offers it's clients quick and inexpensive turnarounds on the jobs that they post. As a Voice Actor you will see tons of jobs for webinars, podcasts, articles and reports. You'll post your own demos and set your own rates.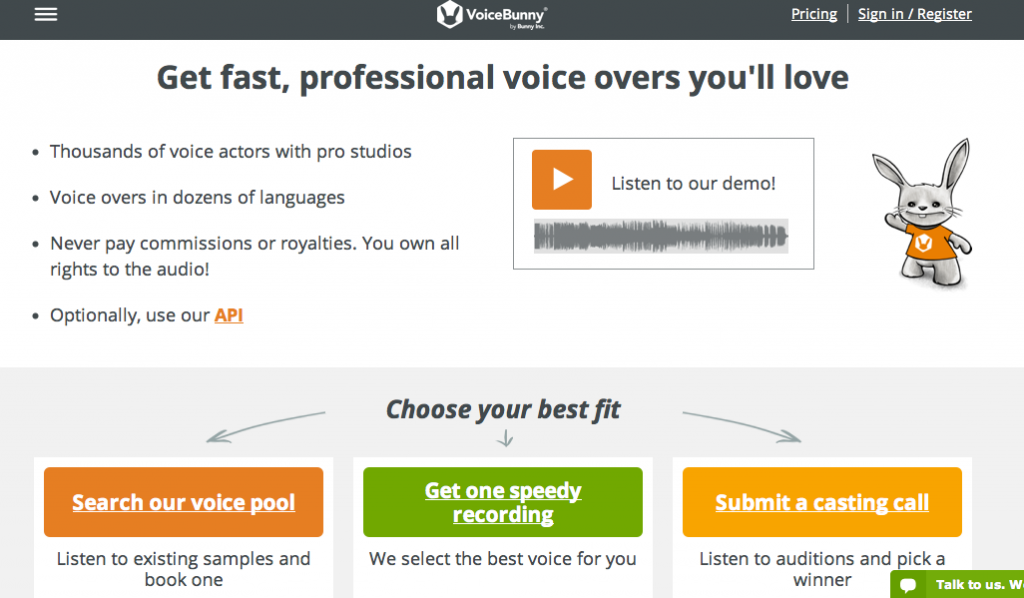 Once you accept a job, you are given a time limit. If you run out of time before completing your work, the job is returned to open order pool.
The auditions that you submit will first be checked by Voicebunny staff. If there are no errors to be found, your audition is then sent to the client. If the client accepts your audition, Voicebunny will pay you your set rate. If your audition is rejected, you will not be paid and you can do redo the audition.
There are a lot of criticisms, regarding Voicebunny, for a high volume of rejections by staff, low pay, and no extra pay for rush work. Basically, Voicebunny is a site for beginners to the industry. It is a good place to start out while you are building up your portfolio.
Voices
Voices is the best site that the industry has to offer. Voice actors are given the opportunity to work for major corporations, movie studios, and national TV stations. The minimum payout for Voices is $100.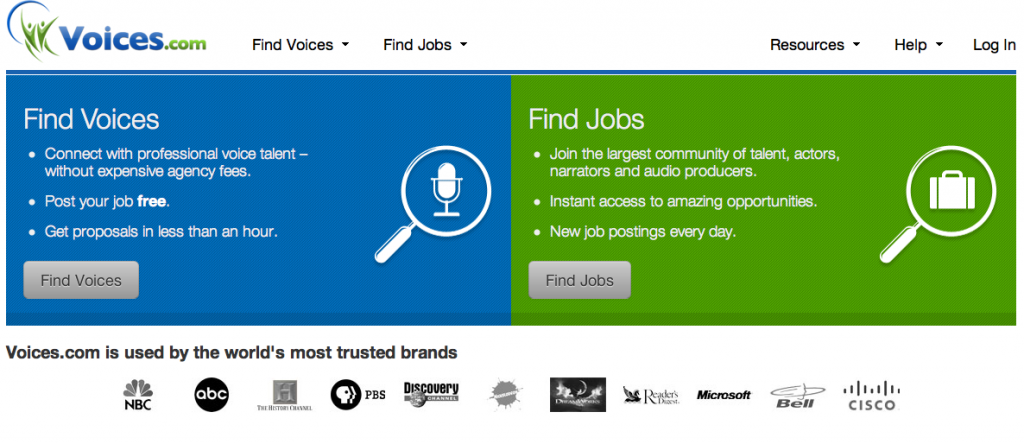 Voices features free and paid memberships. Free members only receive direct invitation jobs and they do not appear at the top of the search results.
Paid members will receive the VoiceMatch software. This software is similar to SmartCast. It matches voice actors to potential jobs and then narrows it's search by checking the talent's past job history.
Voices protects the talent's interests by offering SurePay Escrow. This software keeps clients from ripping off voice actors. Unfortunately, this software comes at a cost of 10% of a sale.
---
If you came to Pajamas and Tie looking for a way to make money online, I recommend Affiliate Marketing. Affiliate Marketing is the best way to make full-time income, and eventually it leads to passive income. If you want to learn more about Affiliate Marketing or even more ways to make money online, check out my number one recommended program for an online education.
Click Here for the Review of My #1 Recommended Program!
---
Any questions or feedback regarding voice over acting? Leave it in a comment below!