Name: Clickbank University
Owners: Justin Atlan, Matt Hulett, Adam Horwitz
Price: $47 per month
The main focus of Clickbank University is to teach members how to create their very own digital info products, but they also teach about affiliate marketing. I really like this program but there are definitely some flaws. Read on to learn more!
Program Overview
---
As I said, I really like this program. The fact that they focus on product creation, as opposed to just affiliate marketing, was a nice change of pace for me.
Here is how I know that CBU can be trusted…
Clickbank is a long standing affiliate network that allows it's members to register and market their own digital info products. It connects affiliates with product owners, and manages the exchange of commissions between the two parties. For it's service, Clickbank is paid a small percentage of the sale.
Clickbank University teaches it's members to create these digital info products. The members can then go on to market their products utilizing Clickbank affiliates.
Where am I going with this?
Well it is pretty simple. If you participate in Clickbank University and create an awesome product, they can market it for you. They will collect a tiny percentage of each sale that you make, which means they only succeed when you succeed. So clearly they are going to provide you with the best training possible, in order to maximize their own profits.
Speaking of the training…
The Training
The training is very high quality and, as I've stated, focuses on product creation. There are over 95 videos within 4 training sections.   
Orientation –  This is all about becoming familiar with the community, so that you can get the most out of the program.
Beginners – This is where you will create your very own digital info product. You will also learn how to build a sales funnel that will drive traffic straight to your product.
Advanced – This section focuses a lot on email marketing. You will learn how to set up a sales funnel within a follow up email. A portion of this section talks about PPC (Pay Per Click). Just remember this is the advanced section. PPC isn't advisable for beginners. You could lose too much money.
Affiliate Marketing – Guess what this section is about! That's right! Affiliate marketing.
Given the fact that the course is about product creation, most of the affiliate marketing information is centered around marketing your own product.
What does this mean for you?
Traditionally, online money making programs will teach you how to generate organic traffic by creating rich content that ranks well on Google. In order to rank well with Google, you have to consistently add this quality content to your website.
When you are trying to sell your product, you won't necessarily need a site that ranks well on Google (although it helps). Instead, you will hire affiliates (through Clickbank) to promote your product for you. You will need to pay these affiliates, but only when the traffic they send your way results in a sale.
Product owners can really benefit from utilizing affiliates, because they only have to pay after a sale has been made. This means there is never a loss. You only pay a small percentage of what YOU will be paid. Much better than traditional marketing.
Community and Support
CBU is still fairly young, but Clickbank as a whole has a very large community. There are tons of opportunities to interact with your fellow members within CBU. They have a Facebook page that they update regularly. The community isn't huge, but it will only continue to grow and improve.  
The support is awesome! I sent a question, to test the response time, and it was answered within 24 hours!
There is a weekly Q&A webinar made available to the members.
There is also a section called University Talks. This section contains video interviews with some of the more successful product creators within Clickbank. I believe this could be very motivational in those moments when you become discouraged with your product.
Locked Modules – The Worst thing about Clickbank University 
The most irritating thing about CBU is the fact that some of the modules are locked. They tell you this is for your own protection.
Don't fall for that line!
I believe they do this in order to slow you down, so that you stay enrolled (paying $47 per month) for longer. You can't work at your own speed, you have to work at the pace that they've determined "is best" for learning.
Granted, the training is well worth the price! I just wish you could set your own pace. You can unlock the modules by paying an entire years worth of tuition, which would save you money in the long run. However, if you are a beginner (this course is definitely geared towards beginners), than you probably don't have the money for that option.
I mean, isn't that the reason you're looking for ways to make money online? Because you don't have enough as is?
My Beef with Clickbank (Not CBU)
Clickbank is a great affiliate marketing network (especially for beginners). The one problem with the network is the fact that they allow their members to upload their own products. This means there are a lot of low quality info products.
If you are looking for products to become affiliated with, you will need to really do your research and make sure you aren't promoting a bad product. If you are promoting a bad product, you probably won't make much money because of Clickbank's famous 60-day money back guaranteed. There is a huge return rate.
But wait… isn't CBU all about teaching people to make their own products?
That's right! CBU is still young. I'm hoping now that it is available, the products on Clickbank will improve overall. This will be good for every member of Clickbank.
The Final Word…
---

Clickbank University is a legitimate resource for learning to make money online. I love this program! It is definitely geared towards beginners, but I found myself learning from it. However, the fact that you can't work at your own pace is aggravating. It does make them seem a little greedy, but overall this is a very honest program. I definitely recommend it if you are interested in creating and marketing your own digital info product.
If you aren't interested in creating your own product, and you just want to learn about affiliate marketing (selling other people's products), than I would try a different program. It's not that CBU's affiliate marketing training is bad, it's just not as in depth as it could be for people who aren't promoting their very own products.
For the best possible affiliate marketing education, I recommend Wealthy Affiliate. It's the program that taught me everything I know and, as a result of my positive experience, I'm still a member to this day. They offer a free 7-day trial so that you can check them out for yourself. Read my full review of Wealthy Affiliate here.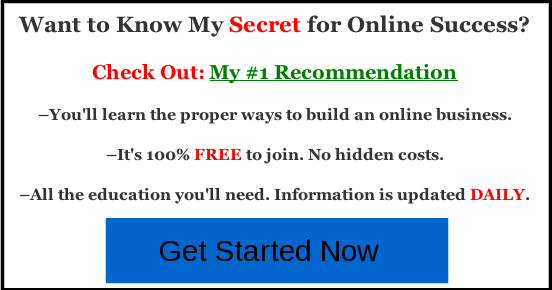 ---
Do you have any personal experience with Clickbank University? Any questions or feedback? I'd love to hear from you guys! Leave a comment below!