Name: Click Money Network
Website: http://www.clickmoneynetwork.com
Price: FREE to join, $29 (one time fee) for a lifetime membership
Owners: Scott Hurtado
Click Money Network is a program that teaches members how to drive traffic to their sites and build lists.
Sounds pretty standard. What makes this program different from the rest?
The big difference: This program teaches you how to acquire traffic through paid means. I'm not talking about a traditional PPC (Pay Per Click) campaign, the program will actually teach you how to best utilize Google's display network.
I haven't seen many programs that focus on "buying" traffic. What gives? Is it a scam?
This Click Money Network review answers that question and more! Read on!
Program Overview
---
I don't believe that a beginner to affiliate marketing should pay for traffic. A complete beginner should focus on learning how to acquire organic (free) traffic through SEO (Search Engine Optimization) practices. This will allow your site to mature and gain trust with the Search Engines. Without this experience and trust, a paid campaign could result in a big financial loss.
Having said that, once you've gained experienced, you should absolutely diversify your means of attracting traffic. Don't rely solely on one method or another. Should the bottom ever drop out of one route, you'll have alternate routes in place.
Establishing multiple traffic routes is insurance for your online business. Once you know what you're doing, you should never put all of your eggs in one basket.
Most programs only teach how to build organic traffic by getting your posts ranked well in the SERPs (Search Engine Result Pages). Click Money Network teaches a valuable paid method, and it is definitely one worth learning.
What is the Display Network?  
You know those ads at the top of the SERPs that show up when you type in a certain keyword?
Well those ads are PPC campaigns. Each time you click on one, the person that put that ad there has to pay a certain amount of money to Google (in this case). This is a traditional PPC campaign.
Google Adwords has another option to pay for advertising, the display network. When you use the display network your ads will be placed within websites, as opposed to in the search results. Have you ever been on a website and seen an ad with "Ads by Google" right across the top of it? This is a display network ad.
This is an incredibly effective method of generating traffic if you know how to do it right (if you don't know how to do it, you'll lose money). Click Money Network does a very good job of teaching this method.
The "Freemium" Model
The greatest thing about Click Money Network (CMN) is the fact that they allow you to try before you buy. The starter membership is completely free, and it allows you a sneak peek at what you will be learning and doing.
I'm a big fan of the freemium model. There are a lot of scams out there that hide behind a hyped up sales page. These seedy sales pages don't usually tell you what the program can teach you or what you will have to do to make money. Legitimate programs can utilize the freemium platform without concern, because a good program sells itself. As a free member you can see if the program is right for you, and then upgrade.
If a program has a "try before you buy" option, chances are it's legitimate. 
It only costs $29 (one time fee) to gain access to the entire CMN program. This is astonishing to me. I've seen membership programs with far less information. CMN could easily be a subscription program (considering they add new content every week), and it would be worth paying for, but instead it's just a cheap one time fee.
Kudos to the CMN gang! They're clearly not out for your money, they actually care about teaching you a thing or two. 
The Training
The training at CMN consists of 7 modules. These modules are broken up further into video lessons. These videos are put together very well and there is hours of material for you to learn from. Each lesson has a link to the next, so it is very well organized.
It isn't until the 5th module that you will learn about setting up display network ads. The first 4 modules will teach you things like finding a niche, building a website, finding a host, setting up auto-responders, etc..
All of the good stuff….
You may be wondering why I don't recommend this program for beginners, when it does in fact cover the basics. Well CMN doesn't provide hosting, a website building tool, or a keyword research tool. As a beginner you are going to need all of these things and you may have to pay for them. When you are just starting out you should keep your spending low. There are programs that include these tools with the membership fee.
On top of the main training, CMN also provides:
Blog: This is where Scott, the program owner, posts his own private blogs. These blogs are chalk full of useful information! Be warned: He does use this blog to promote some of his own products. Just be smart about what you decide to purchase. Always perform your due diligence!
Forum: The best programs always have a strong community feel to them. Being able to communicate with fellow entrepreneurs is a huge advantage in this industry. You can ask questions, as they arise, and get immediate answers! There are only a little over 700 members at CMN, but the forums are in place for these members to communicate. As this program matures there will be plenty of people to ask questions of.
I really appreciate the fact that Scott is actually active within these forums. He regularly communicates with members and addresses their questions.
I told you, this program REALLY cares!
Library: Within the library there is even more training available! This training is not part of the main training but it is all very useful!
Pros and Cons
---
Pros:
Freemium Model. Although not much is revealed to free members, I respect this model.
Scott, the owner, is active within the forums.
The lifetime membership price is cheap!
No hype! (Of course, you wouldn't need hype with a freemium model.)
Cons:
Not very many usable tools.
The free membership doesn't actually reveal that much.
There is no SEO training, and I personally believe beginners should start out with building organic traffic through SEO.
The Final Word…
---

Click Money Network is legitimate. It's a great program and it was incredibly refreshing for a MMO (Make Money Online) program to be so transparent. The problem I have with it is the fact that beginners should learn SEO before they start paying for traffic. It's too risky to start investing money right off the bat.
For that reason, I recommend this program to intermediate Internet marketers. It's important to diversify your traffic routes in multiple ways. This program teaches ONE way, so eventually you will need to join another program to learn more. (Assuming CMN never upgraded it's training, but I'm guessing they will in the future.)
While I love the freemium model, not much is actually revealed to free members. You have to respect the fact that they can't tell you EVERYTHING as a free member, but I feel they could get away with showing you a little more.
As much as I loved this program, it still came nowhere close to my #1 recommendation. Wealthy Affiliate also utilizes a freemium model but they actually give you a large taste of what to expect! They provide a website builder, hosting, and a keyword tool. Check out my full review to learn more!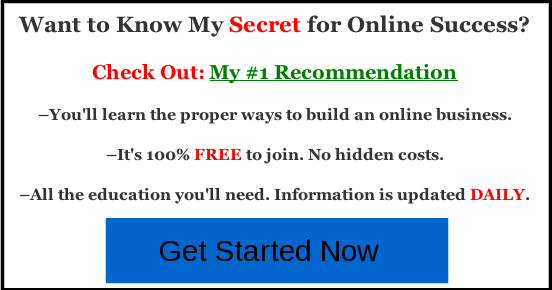 ---
Do you have any personal experience with Click Money Network? Any questions or feedback? Leave it in a comment below! I really loved this program and I want to know if other members feel the same way!