Name: Cashback Research
Website: http://www.cashbackresearch.com
Price: FREE
This Cashback Research Review will breakdown the online survey site for you. Generally speaking, survey sites can make you money, but not a lot of it. Is Cashback Research any different? Read on!
Program Overview
---
Survey sites are a decent way to make a little extra spending money. They will not grant you full-time, or even part-time, income. Having said that, if you are looking to make some extra dough on the side, you could benefit from Cashback Research.
After you register you will have to complete 10 profile surveys. You will receive $0.25 for each of these. These surveys can prequalify you for more surveys in the future.
This is the most frustrating thing about survey sites for me. Qualifying. To qualify for a survey you have to fill out another survey. It often times takes just as long to fill out the qualification survey as it does a real one. A lot of the times, I do not even qualify (I know I'm not alone on that).
What's Unique about Cashback Research?
Not much frankly. When you've seen one survey site, you've seen them all. There is one practice that I haven't seen before.
In order to gain access to daily surveys, you have to sign-up for 1 of 20 other survey sites. I'm not sure why they would require this. Maybe it's just an advertising exchange between the companies? Maybe they earn affiliate credit when you sign-up for another site through them?
Whatever their reasoning, it is pretty inconvenient not being able to complete surveys until you register with another survey site.
That is unique, but not in a good way. 
How Do You Earn Money?
There is nothing unique about the money making process here. There is a large range of things that you can do to make money. For the most part you will be completing surveys in exchange for a few dollars each, if you are lucky. One survey can take hours and you're only earning a few bucks, so it's significantly less than minimum wage. Something I didn't like was this claim I saw on the landing page:

This is a completely false claim. I've never seen a survey with a $75 payout. Making over $5 per survey is rare. If there really is a mythical $75 survey floating around out there, I'm guessing most of us wouldn't be able to qualify for it.
When you register with the site, which was quick and easy, you will automatically receive $5. The first time that you login each day will get you $0.05. The cash-out threshold is $20. It is easier said than done getting all the way to $20 doing surveys.
They have one way to make money called Bonus Cash Offers. With this method you will have to sign-up for MORE things. Am I noticing a trend here? Here are some of the Bonus Cash Offers: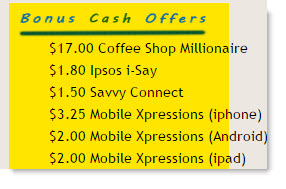 Notice Coffee Shop Millionaire (CSM) at the top of the list? Well first off, CSM is a pretty scammy site with a lot of upsells. Second, I highly doubt you will receive $17 for watching a video. You must be required to signup. That means you would actually be losing money.
Support:
I sent a ticket to support, in regards to a panel I had completed not registering, and to their credit they responded pretty quick! To their discredit… they didn't resolve the issue. I was incredibly frustrated because I already felt like I was wasting my time when I was completing the panel, and then it didn't even register. Let this be a lesson to all of you: If you think negatively, negative things will happen.
Enough of my weeping, lets get to the…
Pros and Cons
---
Pros:
Registration was quick and painless.
Support has fairly decent response times.
The dashboard is easily navigated.
Cons:
It can be difficult finding surveys that you qualify for.
I received virus warnings after attempting to register with some panels.
Sometimes the panels you complete are not reflected on your dashboard.
It seems like this is really just a gateway to get you to signup for other things.
You can make very little money with survey sites.
The Final Word…
---
Cashback Research is one of those odd products that receives my "decent" verdict. What does this verdict mean? Well, I can't really call it a scam because it doesn't cost anything to use it and you can make some money. However, I would never fully recommend survey sites.
Why don't I like survey sites? 
I think survey sites are a waste of time. It takes hours to make a fistful of dimes, and the juice isn't worth the squeeze for me. Granted, I make a decent income online with a different method. Not everyone wants to work online full-time, some people just want to earn a little extra spending money. If you're one of those people, go ahead and try out Cashback Research. It may be perfect for you!
There are other people that do want to make a full-time income working online. If you are one of those people, I'd suggest looking into Affiliate Marketing. It is the method that I use to make money and it is the easiest money making strategy for beginners to Internet Marketing. You will need help to get started in the industry. If you are interested:
Check Out My #1 Recommendation for an Affiliate Marketing Education!
---
Do you have any questions or feedback regarding Cashback Research? A personal story? Leave it in a comment below!