Name: Four Corners Alliance Group
Website: http://www.fourcornersalliancegroup.com
Price: $18 (to earn commissions) + upsells (to earn MORE commissions)
Owners: David Harrison
This post was actually suggested by a reader. I had never heard of Four Corners Alliance Group, but after it was suggested I found that there is quite a bit of buzz around this product. It's not surprising that there is so much hype, because the product operates on an MLM (Multi Level Marketing) platform.
In a nutshell, there are a lot of affiliates of the program trying to get others signed up beneath them. If they manage to get somebody else signed-up, the person will become part of their downline. Artificial demand has been created as a result.
Good news for all of you, I am not an affiliate of Four Corners Alliance Group. This is an unbiased review. 
Does the product actually work? Are the affiliates making money or just relentlessly plugging the system in the hope that they do? Read on!
Program Overview
---

Four Corners Alliance Group is a new MLM that offers 80-100% commissions for it's affiliates. Most people are afraid of the term MLM, because it is often times associated with pyramid schemes.
Allow me to explain…
Multi-Level Marketing vs. Pyramid Schemes
A company that operates on an MLM platform, actually pays customers commission for reselling the products. Instead of having a set advertising budget, the company only pays an affiliate after they have completed a sale. The catch is, in order to resell the products the affiliate must purchase them first.
MLMs are not bad. There are plenty of examples of GOOD MLM companies (like Avon). A good MLM company focuses on product creation. They save money on advertisements because they have affiliates to advertise for them, and the affiliate's job is easy because they are selling a GOOD product.
An MLM becomes a pyramid scheme when the company focuses on recruitment as opposed to their products. A pyramid scheme isn't actually selling a product, it is selling the right to resell the "product."
In a pyramid scheme, an affiliate focuses on recruiting people to join their downline. Each time a member of their downline makes a sale, they collect commission on that sale. That means the people at the top of the pyramid make substantially more than the people at the bottom.
Is Four Corners Alliance Group a pyramid scheme?
The short answer is yes. While Four Corners Alliance Group actually has products to sell, it is pretty blatant that is not why people are joining. People aren't buying these products as a means of learning, they are buying them to resell them and to get in on the pyramid scheme. To start earning commissions you only have to pay $18, that is very appealing to the scammers out there.
Speaking of the products…
The Products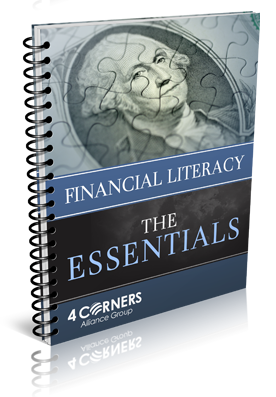 Four Corners Alliance Group offers a series of books called the Financial Literacy Series. These books teach all about investing and smart spending. They really aren't geared towards making money online, so if that's what you were looking for… keep looking.
All of the information within these books can be found for cheap (if not completely free). If I were you, I wouldn't waste my money on them. As I said earlier, people aren't buying these products for the information, they are buying them for the right to sell them to others.
So what does the compensation plan look like?
The Commission Levels (Inside the Matrix)
Instant Commissions – These are earned after somebody purchases a product from levels 1 through 6. You will only receive commission on products that you have purchased yourself.
Sponsor's Match – Every time a member that you introduced makes commission, you will receive 100% match immediately.
Starien Recurring Commissions – After you purchase the Starien subscription, you can begin collecting recurring income from the members of your downline that subscribe to it.
Sponsor's Match on Starien Commissions – Every time a member that you introduced receives commission from a member of THEIR downline, you will receive a 100% matching commission.
Monthly Newsletter Commissions – You will receive recurring commissions from every member of your downline that subscribes. This only applies if you are subscribed to the newsletter yourself.
Sponsor's Match Monthly Newsletter – You will receive 100% matching commissions each time somebody you directly referred gets a member of THEIR downline to subscribe.
Retail Commissions – Each time you sell a product to a non-member, you will receive the usual commission plus the 25% markup for non-members.

This looks like a great opportunity, but don't be fooled. In order to receive the maximum amount of commissions, you would have to purchase ALL of the products and subscriptions. That is an awfully big bill.
I already stated that most of the products available at Four Corners Alliance Group contain information that can be found for FREE. That means you aren't really going to be selling the products to people in need of the information. You are going to be selling to your downline.
Your downline will consist of fellow entrepreneurs trying to form their OWN matrixes. Your upline will consist of the same demographic.
This is a pressure cooker…
You will be pressured by your upline to purchase all of the products, and you will have to pressure YOUR downline to buy the products.
Unfortunately, getting anybody to join under you is going to be difficult. You can't market the products. Your best bet would be to sell the right to resell. That means your target demographic is going to be like-minded Internet entrepreneurs, and that is a tough crowd to try to pressure to buy more.
The Final Word…
---

Four Corners Alliance Group isn't a scam because it can't make you money. Im sure you can make money with it (although it's harder than they let on). It's a scam because it is a pyramid. There is no real product being sold, it's all about recruitment. You will not learn how to make a profitable website (unless a member of your upline is banking on your success).
If you want to learn how to build your own website and sell REAL products, I'd recommend checking out this educational community. Within this community you will learn how to sell WHATEVER you want to. That means you can create a full-time business promoting something that you are actually interested in.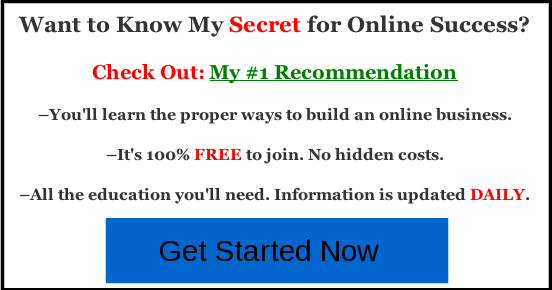 ---
Do you have any personal experience with Four Corners Alliance Group? Any questions or feedback? Leave it in a comment below! I would love to hear from you!
Speaking of hearing from you guys…
Bernard I hope that I have answered any questions you may have had about Four Corners Alliance Group.
To everyone reading, if you have a program that you would like for me to review, just let me know and I will add it to my ever-growing list.